1.Introduction of rusty metal garden sculptures
This is a rusty metal garden sculptures. It is a unique and exquisite artwork. It takes weathering steel as the main material and has been carefully made. The semi circular design perfectly blends with the surrounding landscape and coexists harmoniously with nature. The entire sculpture has smooth lines and a natural shape, which is both modern and ancient. This weathering steel semicircle landscape sculpture is undoubtedly an indispensable part of the urban landscape, which makes people look forward to the beauty of the city.
Rusty Metal Sculptures are suitable for decoration in various outdoor environments, such as parks, squares, commercial streets, campuses and other open places. It can add a sense of modernity and artistic atmosphere to these places, creating a pleasant and beautiful spatial environment for people. In addition, the semi circular design of this sculpture can blend with the surrounding environment, creating a harmonious and unified visual effect.
For outdoor place, such as parks and squares, this statue can provide a place for people to relax, entertain and communicate. In commercial streets and campuses, it can create a fashionable and dynamic atmosphere for people, creating a better spatial atmosphere for commercial and academic exchanges. In a word, this sculpture can bring unique aesthetic feeling and artistic experience to people in various outdoor environments.
2. Project cases of stainless steel sculpture
3.Production Process of rusty metal garden sculptures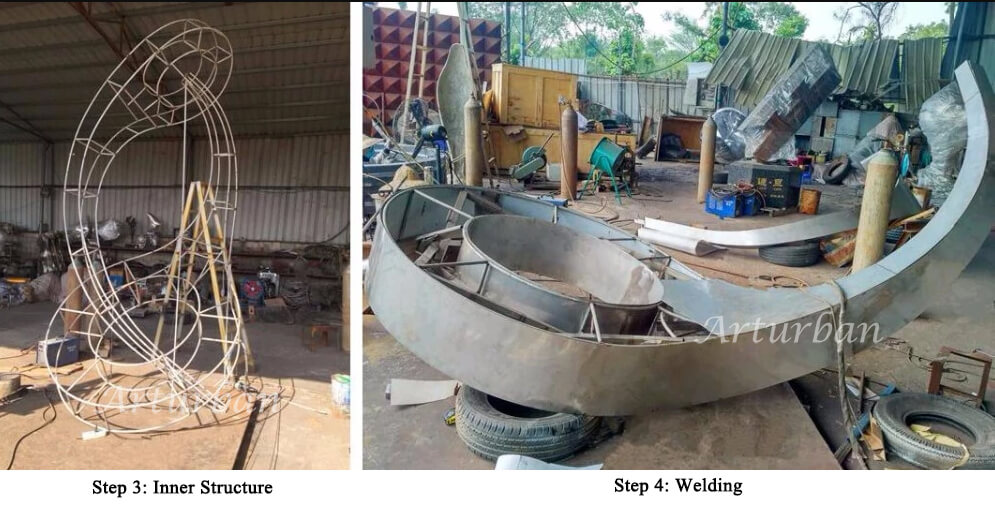 Send us your requirements now, we will reply to your email within 24 hours