1.Introduction of rusty metal yard sculptures
This rusty metal yard sculptures is an abstract artistic circular. The material of steel makes
it have rust red, which is very beautiful. Its abstract ring shape, sharp edges and corners just
like how the external things change, it still adheres to its own inherent principles. It not only
has a unique shape, but also is polished by pure hand. The splicing process is precise, the surface
is flat and beautiful, and the edges and corners are clear and three-dimensional. This Rusty Metal
Ring Sculpture is elegant and generous, placed in an outdoor place, and its unique will attract
people's attention and become the focus.
Abstract modern art sculpture not only complements the garden environment, but also makes
the surrounding environment no longer monotonous and improves the quality of the environment.
He pays attention to the integration of sculpture and art, breaks through the simple and perfect
form in the design, creates an inharmonious tension in the natural state, and forms an irregular
natural beauty. We have rich experience in making stainless steel, weathering steel and other materials
sculptures. If you want to add beauty to your garden, courtyard and other environment, you can contact
us at any time for more details.
2. Project cases of stainless steel sculpture
3.Production Process of rusty metal yard sculptures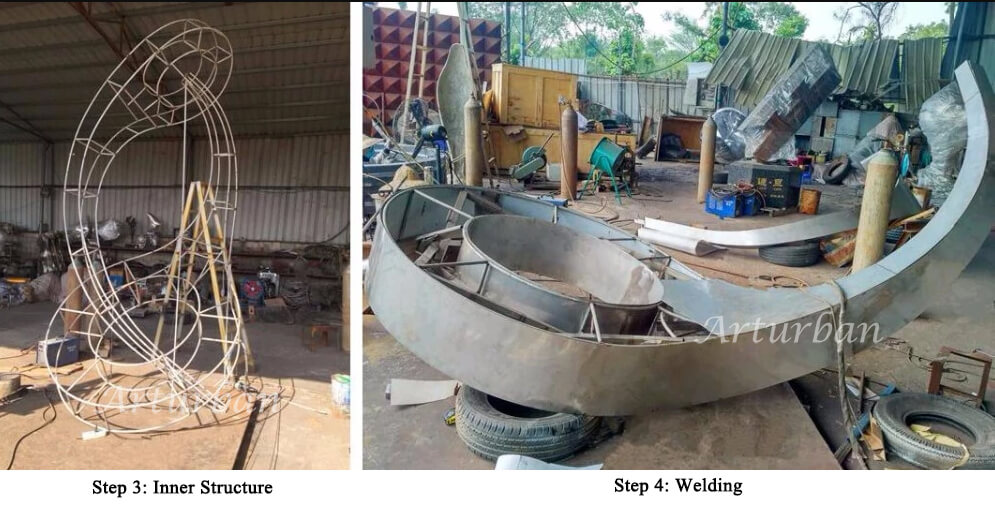 Send us your requirements now, we will reply to your email within 24 hours