1.Introduction of rusty metal sculptures
This is an abstract rusty metal sculptures. It is a very classic weathering steel sculpture. The winding curve stands in the outdoor place like an arch. The curved semicircle at its bottom are neatly arranged together, and at its top of lines are different lengths. The integrity becomes an open semicircle. This weathering steel has very distinctive characteristics. Its rust red color is combined with abstract image, which is very beautiful and fashionable. The overall shape of this sculpture is beautiful, and it is very suitable for outdoor use.
This rusty metal sculptures is made of weathering steel. Weather-resistant steel is an alloy steel, which will form a relatively dense rust layer on the surface when exposed to the sun for a long time, so it does not need to be painted for protection. This strong color, special texture and abstract curves and lines combine to show a unique aesthetic feeling. This outdoor sculpture and the surrounding environment show unique charm. We also have many different forms of weathering steel sculptures, stainless steel sculptures, etc., which show different styles and bring you different aesthetic feelings. We support the customization of sculpture. You can tell us your creativity or your favorite sculpture form, and we will provide you with information for free.
2. Project cases of stainless steel sculpture
3.Production Process of rusty metal sculptures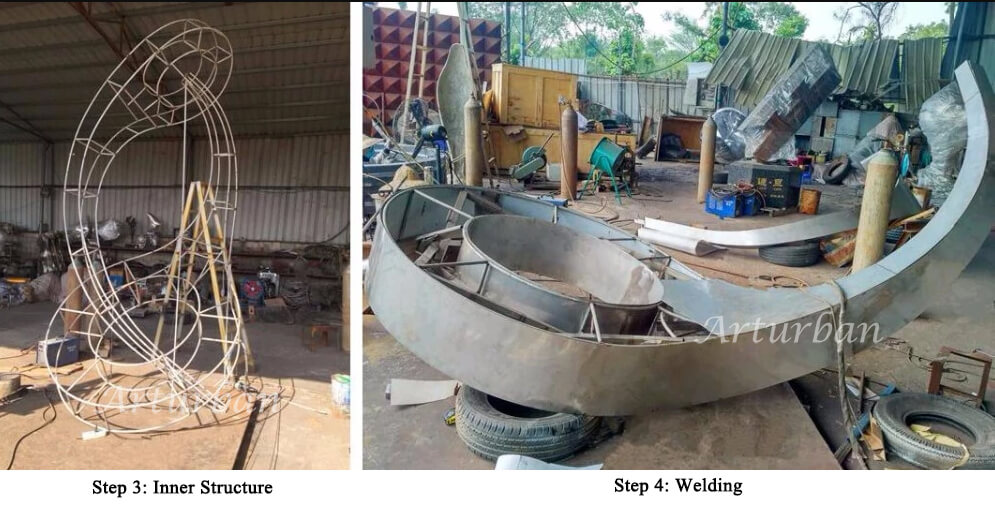 Send us your requirements now, we will reply to your email within 24 hours