1.Introduction of rusty metal ring sculpture
This rusty metal ring sculpture is an abstract modern sculpture of weathering steel used for garden
decoration. Its rust red color is very beautiful. There is a ring shape on a square iron plate, like a ring
waiting for people to wear. It may be that the shape of a simple ring will be boring, so there is a gap
at the top of the slope. The exquisite radian of the gap makes the sculpture very delicate and natural.
Make the shape simple and unique. Break through the simple and perfect form in the design, create
an inharmonious tension in the natural state, and form an irregular natural beauty, which is very
suitable for outdoor.
The overall shape of this rusty metal ring sculpture is beautiful, and its unique color and texture will
change with time, showing ingenious artistic charm. It can trace the history of the site, record the
moment and extend the vitality of the site. The curve of the ring is smooth and delicate, the splicing
is precise and detailed, the surface is flat and beautiful, and the three-dimensional is full. If you are
interested in such interesting Stainless Steel Garden Ornaments, you can contact us at any time. We
can customize various forms of garden sculptures for you to add artistic charm to your garden.
2. Project cases of stainless steel sculpture
3. Production Process of rusty metal ring sculpture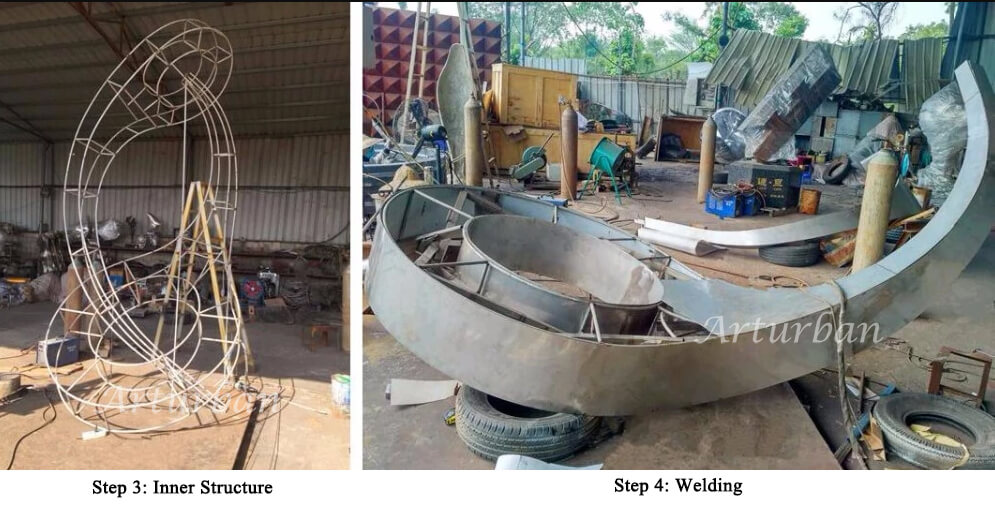 Send us your requirements now, we will reply to your email within 24 hours