1.Introduction of Savannah bird girl sculpture
This Savannah bird girl sculpture is a very beautiful classic sculpture. It is very suitable for the decoration of gardens, courtyards and pools to add charming colors to your family. Through close observation, we can see that the eight year old girl has a shoulder length hairstyle. With her head tilted to one side, the expression on her face can't see sadness and joy, as if she was under a lot of pressure. The simple little skirt has five buttons on it, which is the only decoration. The long skirt hangs to the bottom of her feet, and the skirt wraps her like waves, highlighting the elegant temperament of the little girl. The two bowls held up in my hands are like scales. It seems to be judging which side is heavier. It's very interesting.
This sculpture is our masterpiece. We can clearly see the character's expression, appearance and action lines are very smooth and lifelike. In addition, we can see the folds of soft clothes, just like real fabrics. Every detail is so exquisite that there is no stiffness. Put it in the garden and courtyard, it will become the focus and accompany you and your family for a long time. More savannah bird girl statue, please click here.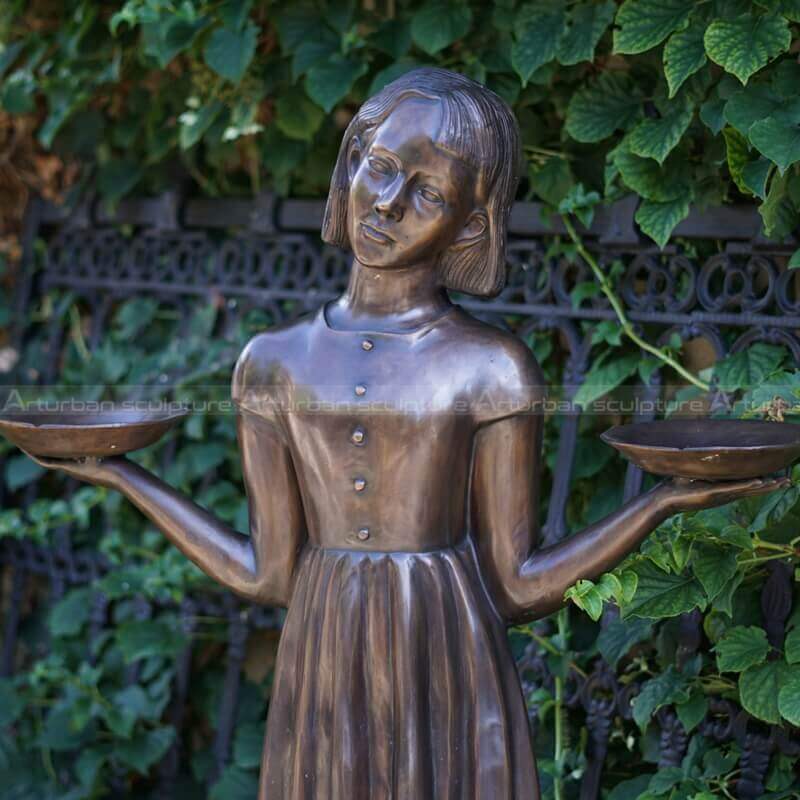 2.Production Process of savannah bird girl statue
1. Confirming the details drawing/ 3D mold/ Pictures with clients.
2. Making clay mold according to drawing/ client's photos/ 3D mold.
3. Lost-Wax casting bronze/brass statues.
4. Welding and Chasing.
5. Patina and wax surface, take all different views pictures/ videos, show to clients.
6. Packing into wooden cases after clients are satisfied with sculptures.
Send us your requirements now, we will reply to your email within 24 hours