1.Introduction of bird girl statue savannah georgia
This bird girl statue savannah georgia is a very beautiful fountain sculpture. When Sylvia Shaw Judson designed this sculpture, it was a garden sculpture made for a family. It created the image of a young girl in a simple dress. She stood firmly and quietly with a sad or contemplative expression. She straightened her body, her head turned to her left shoulder, her elbow supported on her waist, and lifted two bowls from her side. We also can see she hold the two bowls to holding food or water for birds. This sculpture was also originally designed as a potential fountain, with holes in the bottom of her bowl and grooves in the front to allow water to overflow.
This fountain replica of the Savannah bird girl statue is a reduced replica of the sculpture. In a pool, it is covered with pebbles. The water from the fountain flows out and sprinkles on the pebbles, which is clean and bright as if washed by rain. The bird girl stood in the middle of the fountain, with her elbows on her waist, holding a bowl and thinking with her head tilted, so that we couldn't bear to disturb her. In this rapidly developing and fast-paced era, we have a kind of spiritual tranquility and physical and mental relaxation. It's like taking off our heavy armor at work and putting on light and soft clothes, feeling that the whole person is breathing aerobically. Herewith, we have another savannah bird girl statue for your reference.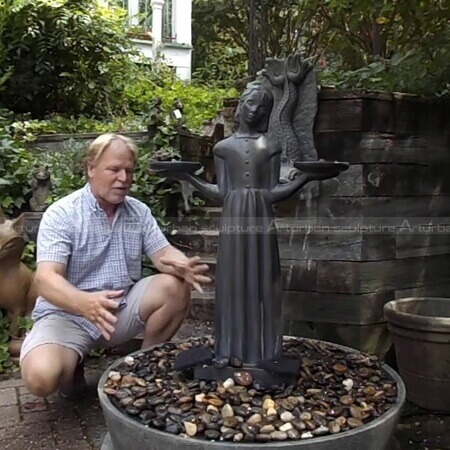 2.Production Process of
bird girl statue savannah georgia
1. Confirming the details drawing/ 3D mold/ Pictures with clients.
2. Making clay mold according to drawing/ client's photos/ 3D mold.
3. Lost-Wax casting bronze/brass statues.
4. Welding and Chasing.
5. Patina and wax surface, take all different views pictures/ videos, show to clients.
6. Packing into wooden cases after clients are satisfied with sculptures.
Send us your requirements now, we will reply to your email within 24 hours