1.Introduction of bird girl statue replica
This bird girl statue replica is a very beautiful classic created by Sylvia Shaw Judson. The prototype of the sculpture was bought by a local family, named "little Wendy" and placed her on the land of Bonaventil cemetery. Little Wendy sat in Bonaventil cemetery for more than half a century and hardly noticed it until it became popular as the cover of John Berent's midnight in the garden of good and evil.
As a graveyard sculpture, this bird girl looks very heavy. Little Wendy held two bowls in her hands and tilted her head in the dark light. We couldn't see her expression clearly, as if she was thinking. The surrounding environment adds heavy color to her. The inscription below the sculpture reads: "I say that we have faith and would rather leave our bodies and be with the Lord."
This statue is very good at integrating with the environment, as if she were a part of it. This sculpture can not only be used as a decoration for gardens and courtyards, but also as a graveyard sculpture to express the remembrance of relatives. In the sculpture production, we use the lost-wax method to cast, vividly display each action detail of the characters, and highly restore the image and artistic characteristics of the sculpture works. Let you enjoy the artistic color of sculpture closely. We support the customization of sculptures and will customize your works according to your environment. View savannah bird girl statue for sale, pls contact us.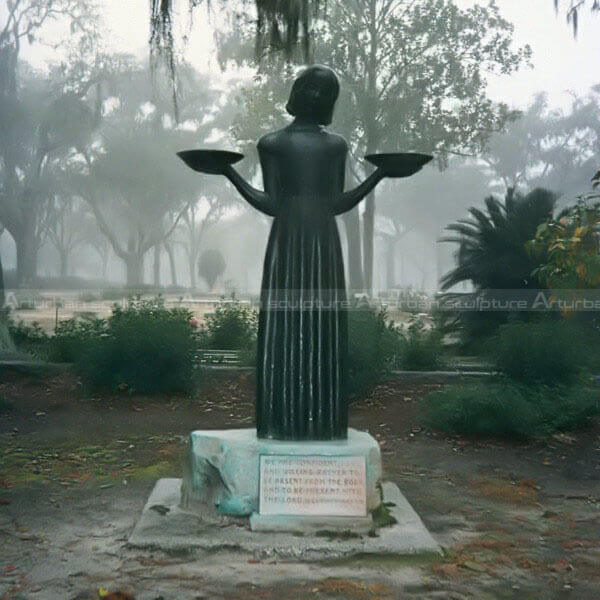 2.Production Process of bird girl statue replica
1. Confirming the details drawing/ 3D mold/ Pictures with clients.
2. Making clay mold according to drawing/ client's photos/ 3D mold.
3. Lost-Wax casting bronze/brass statues.
4. Welding and Chasing.
5. Patina and wax surface, take all different views pictures/ videos, show to clients.
6. Packing into wooden cases after clients are satisfied with sculptures.
Send us your requirements now, we will reply to your email within 24 hours