1.Introduction of Savannah bird girl statue for sale
The Savannah bird girl statue for sale is a very famous classic statue. It was carved in 1936 and is famous for John Berent's best-selling Nonfiction Novel and the film midnight in the garden of good and evil. After the publication of this book, the original statue was removed from Bonaventure cemetery in Savannah, Georgia. It is currently located in the museum in downtown Savannah for people to visit. Bird girl has become one of the most famous sculptures in the United States.
This sculpture is loved by many people and is often placed in the courtyard of their homes and in the park. The lovely little girl was wearing a simple dress, with her elbows at her waist and holding two trays. It seemed that she was waiting for the arrival of birds. It seemed that this picture appeared in front of us. A group of birds flew to her side, some drinking water, some pecking, very harmonious. This statue is suitable for any occasion. The garden, roadside, fountain and other places are a beautiful scenery, which is integrated with the scenery of nature.
Bird girl statue replica we copied for our customers is very vivid. In order to make the sculpture more in line with its name, but he is not willing to destroy the artistry, so he plans to put some food and water in the sculpture bowl and take a picture of the beautiful moment when the birds fly in as a souvenir. We support the customization of various sizes of Savannah bird girl statues to add happiness and innocence to your home.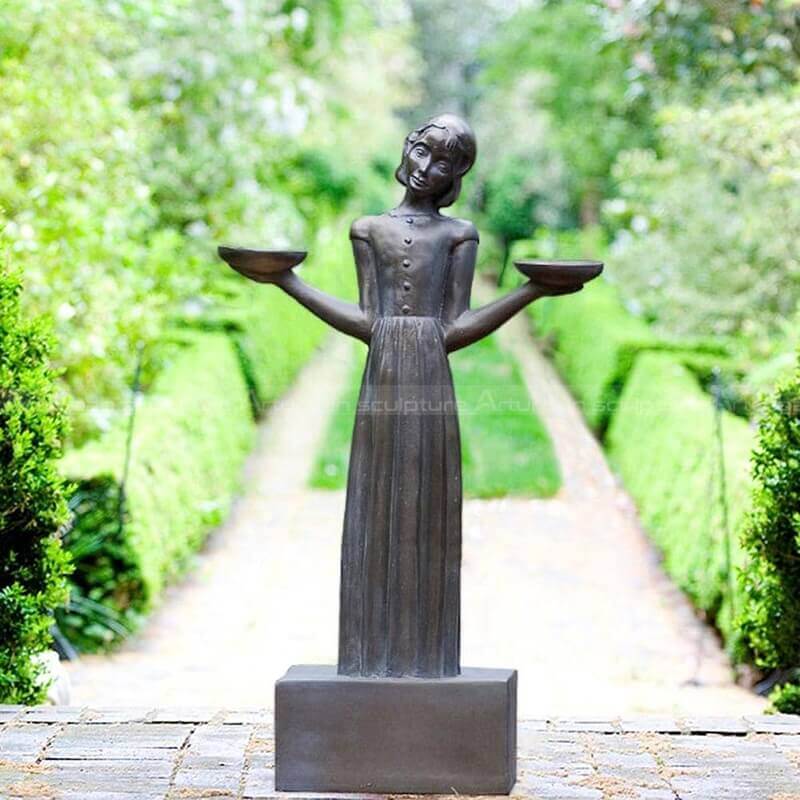 2.Production Process of savannah bird girl statue for sale
1. Confirming the details drawing/ 3D mold/ Pictures with clients.
2. Making clay mold according to drawing/ client's photos/ 3D mold.
3. Lost-Wax casting bronze/brass statues.
4. Welding and Chasing.
5. Patina and wax surface, take all different views pictures/ videos, show to clients.
6. Packing into wooden cases after clients are satisfied with sculptures.
Send us your requirements now, we will reply to your email within 24 hours