1.Introduction of Whale Garden Sculpture
This is a whale garden sculpture. The whale is a symbol of ambition. As a giant, the whale can resist the difficulties at the bottom of the sea. Whales are never afraid of the pain and lead their lovers and children to survive strongly. This beautiful whale sculpture is composed of a whale mother sculpture and a whale baby. In order to protect their children, whale mothers can sacrifice their lives. Is the kindest mother in the world? This sculpture shows the mother whale raising her neck as if she were floating out of the water. The baby whale swam around her and followed her steps.
We use the traditional wax loss method to make the bronze statue, which not only shows the exquisite sculpture details, but also makes the clear texture and shape lifelike. We can clearly see the state of the whale swimming, as if it gave it life. With the chemical coloring method, the bright yellow metallic luster makes the sculpture more dazzling, which can easily enter everyone's field of vision and be impressive. It can also maintain the color for a long time and has corrosion resistance. It can be placed outdoors for a long time.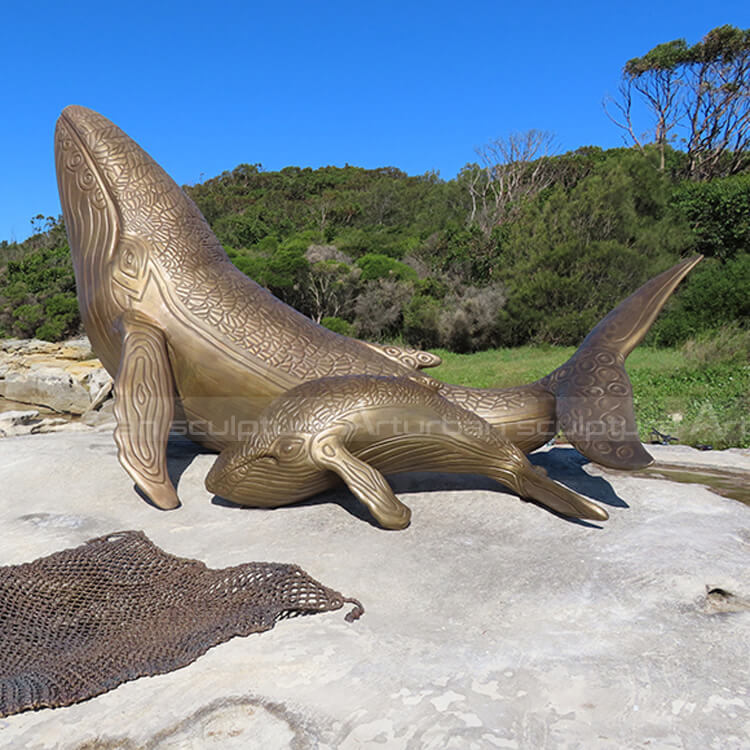 2.Production Proccess of Whale Garden Sculpture
1. Confirming the details drawing/ 3D mold/ Pictures with clients.
2. Making clay mold according to drawing/ client's photos/ 3D mold.
3. Lost-Wax casting bronze/brass statues.
4. Welding and Chasing.
5. Patina and wax surface, take all different views pictures/ videos, show to clients.
6. Packing into wooden cases after clients are satisfied with sculptures.
Send us your requirements now, we will reply to your email within 24 hours