1.Introduction of whale sculpture
Whale sculpture is made of stainless steel. Whales are the largest animals in the ocean and one of the few large animals in the world. They live quietly in the ocean and occasionally come out to play. At the same time they are also very good musicians, their singing is very beautiful, very beautiful, very immersive. It seems to be telling us through singing: "Hey, don't forget our existence, our life in the water is also extremely beautiful, come and see us". Stainless steel dolphin sculptures are also very common art sculptures in our lives and are loved by people. It is like a happy messenger, bringing colorful world to our life.
This whale sculpture is an image of a swimming whale playing with a beautiful ball at the tail. The upper part of the sculpture has a smooth mirror design that looks like a moist luster, and the lower part is a hollow design, allowing The whole sculpture has a light texture and is as beautiful as an elf. It has a rose red fiberglass mirror sphere at its tail, as if it is performing an interesting acrobatics, it is very cute. We have an excellent stainless steel production team with superb skills and rich work experience, who can produce all kinds of beautiful whale gardens statue. If you like this sculpture, you can always contact us to check more whale sculpture for sale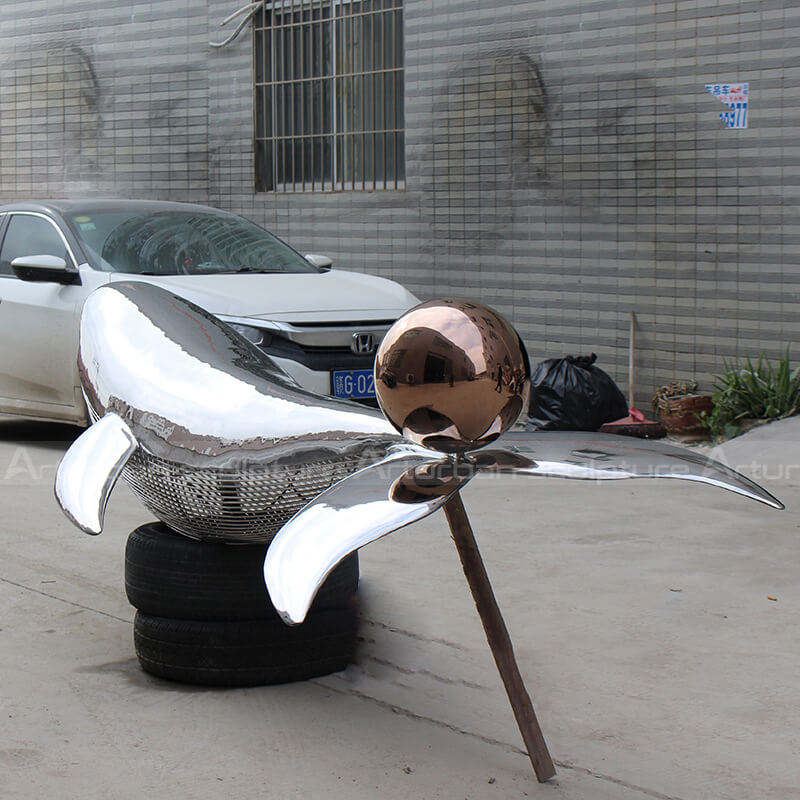 2. Production Process of whale sculpture for sale
Send us your requirements now, we will reply to your email within 24 hours.