1.Introduction of cube statue
The stainless steel hollow cube statue shows a sense of modernity and artistic beauty. It is made of tough stainless steel,
in a cubic shape, with a hollow design inside. The light passes through the hollow part to form a unique shadow, giving
the sculpture a vivid dynamic effect. Each surface is embedded with exquisite patterns or geometric shapes, creating a highly
layered visual effect. At different angles, sculpture presents a diverse appearance, giving people a sense of three-dimensional
and illusion. This Cubes Sculpture triggers viewers' thinking and imagination, creating a unique artistic atmosphere. Whether
indoors or outdoors, stainless steel hollow cube sculptures can add modernity and artistic atmosphere to the environment,
becoming the focus of people's appreciation and thinking.
The advantage of stainless steel hollow cube sculpture lies in its durability and diversity. Stainless steel material has excellent
corrosion resistance and can withstand the erosion of the natural environment for a long time, maintaining the appearance
and quality of the sculpture. During its production process, the hollow design adds lightness, making it easy to handle and install.
In addition, stainless steel has strong plasticity and can create various geometric shapes and patterns, giving designers greater
creative space in their creations. In summary, stainless steel hollow cube sculptures have unique production advantages in artistic
creation and indoor and outdoor decoration due to their durability, lightness, and diversity.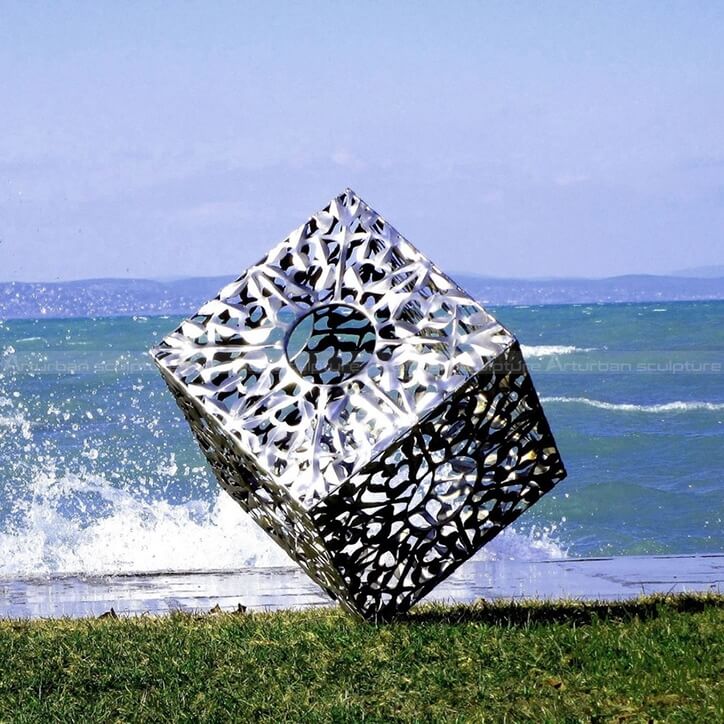 2. Production Process of cube statue
Send us your requirements now, we will to your email within 24 hours.