1.Introduction of Bodybuilder Sculpture
Bodybuilder sculpture is very popular. In the statues of the Greeks, we can see that most of the male Gods, such as Zeus and Apollo, were muscular. They pride themselves on being physically strong. Whether it is in the sports meeting or in a variety of artistic works, they all promote the health beauty and strength beauty of muscular men. That led to the ancient Olympic Games in which athletes had to compete completely naked. The naked bodies, bulging muscles and strained strength of athletes bring people visual and spiritual enjoyment, but also arouse people's praise and pursuit of sports itself. bodybuilder sculpture can be found easily in Greeks.
Our bodybuilder sculpture is a strong muscular man bent on his side, with his hands raised and bent to the inside of his arms. Under the action of force, the muscles of the arms and legs and the abdomen are bulging high, as if the strong muscles can be controlled, and the blood vessels on the body are clearly visible. Our sculptors pay attention to human forms and small details when sculpting characters, so that our bodybuilding statue, no matter what kind of state or image, are vivid, giving it vitality and passion of life. If you are looking for high quality figure sculpture, you can tell us your requirements for sculpture and details, we will work out a detailed plan for you to check and confirm.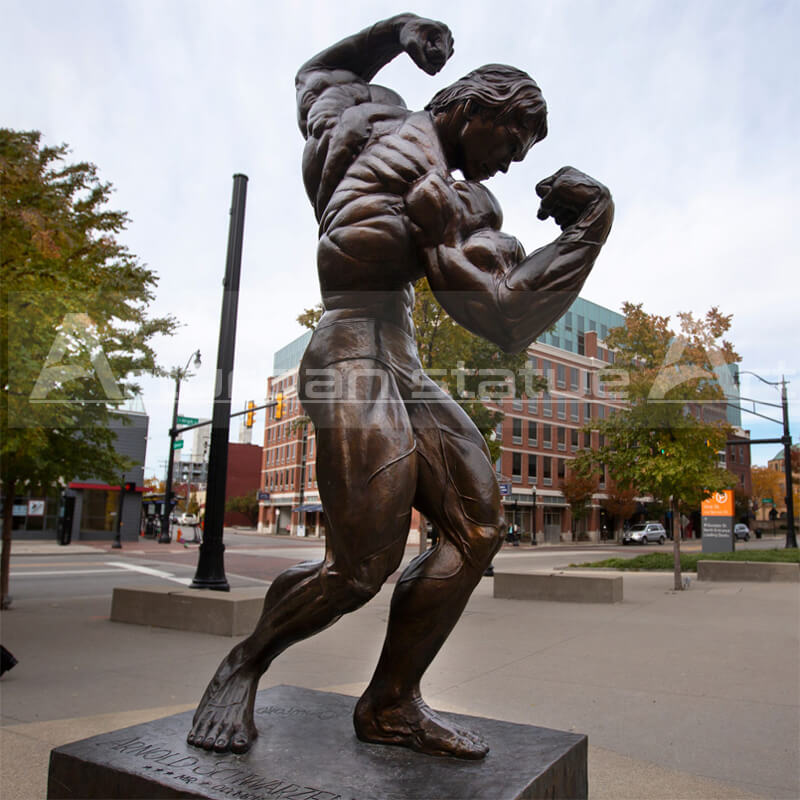 2. Production process of bodybuilder sculpture
1. Confirming the details drawing/ 3D mold/ Pictures with clients.
2. Making clay mold according to drawing/ client's photos/ 3D mold.
3. Lost-Wax casting bronze/brass statues.
4. Welding and Chasing.
5. Patina and wax surface, take all different views pictures/ videos, show to clients.
6. Packing into wooden cases after clients are satisfied with sculptures.
Send us your requiremnts now, we will reply to your email within 24 hours