1.Introduction of Blind Justice Statue
Our blind justice statue depicts a delicate and elegant goddess of justice, wearing beautiful clothes, blindfolded, holding a sword in one hand and a balance in the other. She is like a just woman soldier, always ready to fight. The snake under her feet did not affect her movements at all. In this sculpture, blindfolded represents justice, which depends solely on reason, not on people's sensory impression; Balance is a metaphor for fair discretion and equality before justice; The sword means that the sanctions are severe and will not be tolerated; Snake and dog represent hatred and friendship respectively. Neither of them is allowed to affect the referee.
This blind justice statue is made of high-quality bronze and can be displayed outdoors for a long time. We pay attention to details when making sculptures, and vividly depict the appearance, expression and action of the goddess of justice with very smooth lines, making the sculptures look very beautiful and lifelike. In addition, we can also see the folds of soft clothes, just like real fabrics. Every detail is so exquisite without any stiffness. We polish the surface of the sculpture very smooth, as delicate as real skin, showing a high luster and very sacred. Our statue of blindfolded lady justice, whether placed in the garden, courtyard, living room or desk, is a very beautiful decoration. You can contact us at any time for more detailed sculpture information.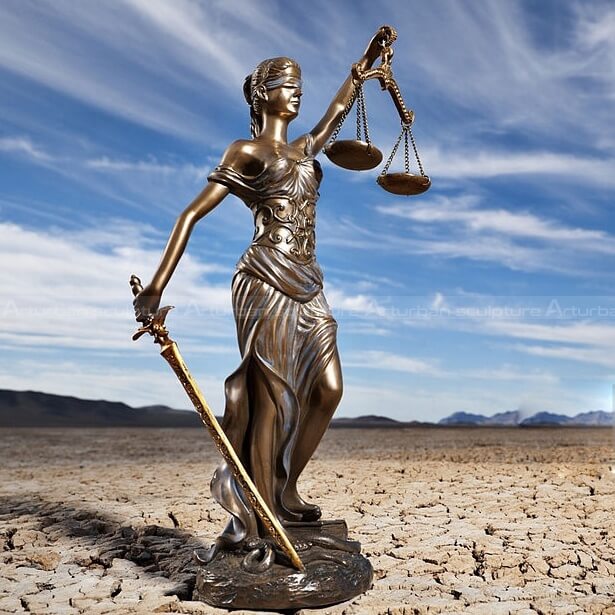 2.Production Process of B
lind Justice Statue
1. Confirming the details drawing/ 3D mold/ Pictures with clients.
2. Making clay mold according to drawing/ client's photos/ 3D mold.
3. Lost-Wax casting bronze/brass statues.
4. Welding and Chasing.
5. Patina and wax surface, take all different views pictures/ videos, show to clients.
6. Packing into wooden cases after clients are satisfied with sculptures.
Send us your requirements now, we will reply to your email within 24 hours