1.Introduction of Lady Justice Statue Bronze
Lady Justice Statue Bronze is the lady holding the balance of justice. She is the goddess of justice named Themis. She held the sword in one hand, put the sword on the ground and supported it with her hand, and held the balance in the other hand to keep the balance without any deviation. The laurel wreath on her head represents that she is a symbol of justice and maintains peace in a way that she does not deviate from justice and decisive implementation.
This Lady Justice bronze statue is carefully made by our sculptors. We use the traditional wax loss method to make it, which perfectly retains the details of the sculpture. We can clearly see the elegant and beautiful appearance of the goddess of justice, and the action of picking up objects in hands is no different from that of real people. This sculpture is made of high-quality bronze sculpture. It is not only exquisite in appearance, but also vivid in characters. We support the custom-made lady justice sculpture. No matter you put it in front of the building or in the garden, courtyard and indoor as decoration, we can customize the size suitable for you. You can contact us at any time for more details.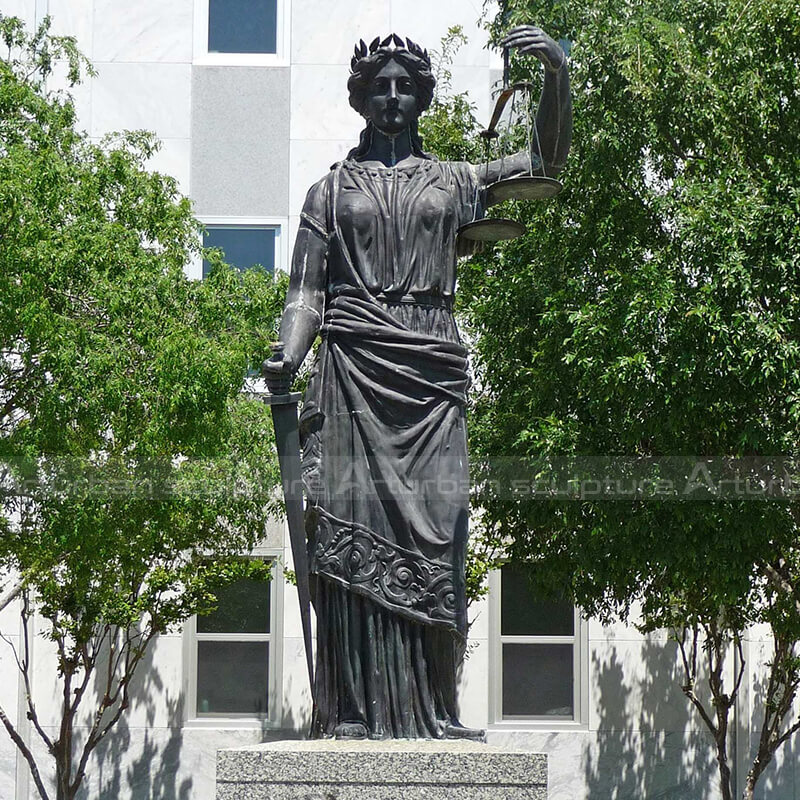 2.Production process of Lady Justice Statue Bronze
1. Confirming the details drawing/ 3D mold/ Pictures with clients.
2. Making clay mold according to drawing/ client's photos/ 3D mold.
3. Lost-Wax casting bronze/brass statues.
4. Welding and Chasing.
5. Patina and wax surface, take all different views pictures/ videos, show to clients.
6. Packing into wooden cases after clients are satisfied with sculptures.
Send us your requirements now, we will reply to your email within 24 hours