1.Introduction of augustus caesar bust
Augustus Caesar bust, the Roman emperor, is a masterpiece with unique artistic charm, inspired by the ancient primitive statues of the
Vatican in Rome. This bust showcases the grandeur and glory of the ancient Roman Empire through a vivid portrayal of Augustus Caesar.
This sculpture presents the unique and handsome features and confident facial expressions of Augustus Caesar. His eyes were deep and
firm, full of wisdom and determination. Sculptors use exquisite techniques to vividly depict the image of Augustus Caesar, making the
viewer feel as if he exists. In addition, the shallow relief armor in the sculpture also has symbolic significance, showcasing the ruling authority
and military wisdom of Augustus Caesar.
This sculpture has a highly decorative effect. Whether placed in a gallery, museum, or private collection room, it can add a sense of classicality
and solemnity to the space. It is not only a work of art, but also a witness to history, representing the beauty and brilliance of ancient Roman
culture.
This Julius Caesar Bust Statue uses high-quality materials and exquisite craftsmanship. Sculptors use traditional carving techniques to carve
every detail very finely, making the work more three-dimensional and realistic. At the same time, the selection of durable materials ensures
the stability and durability of the statue, allowing it to withstand the test of time and be preserved for a long time.
Overall, this bust sculpture is a work of historical and artistic value. It is not only an artistic enjoyment, but also a cultural inheritance that brings
viewers an experience of time and space travel. This sculpture, with its unique charm, has captivated generations and become a classic in art history.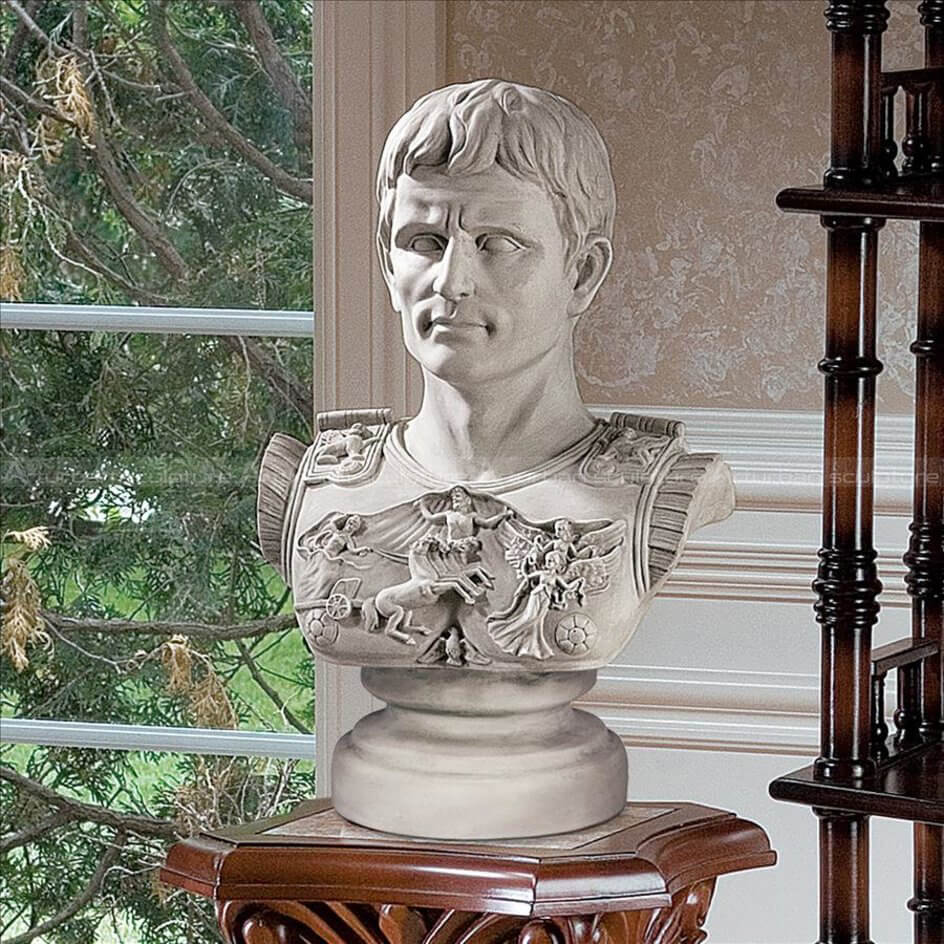 2.Production Process of augustus caesar bust
| | |
| --- | --- |
| Step 1: Design   Communication: |  You supply us with several photographs with dimensions. |
|  Step 2: Project Consultation: |  Our team will make a production plan, according to your design, budget, delivery   time,  or any other service. Our final aim is to supply high quality and cost-saving   sculpture efficiently. |
|  Step 3: Confirm Mold |  After we make 1:1 clay or 3D mold,I will take photos for  your reference |
|  Step 4: Carving and Polish |  We will carving with natural marble according to clay mold. |
|  Step 5: Package |  Strong wooden crate with waterproof and shockproof foam inside |
Send us your requirements now, we will reply to your email within 24 hours