The artistic color of twisted vertical elements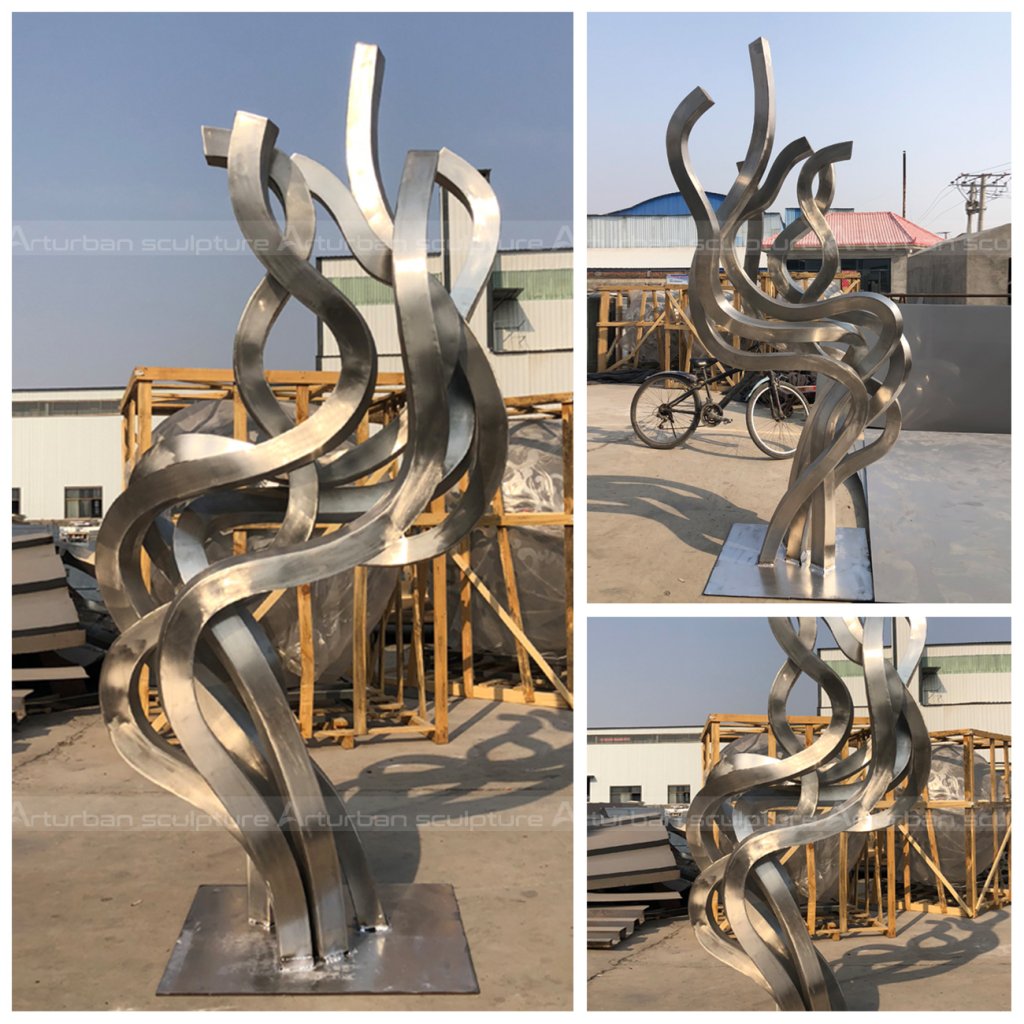 This tall abstract floor sculptures is an outdoor sculpture created in the form of abstract and concise sculpture. It combines sculpture with art to create a modern art sculpture. Outdoor sculpture is an important part of environmental art. With its unique form of expression, it plays a role in beautifying the environment. According to the needs of different space environments and the relationship between the public environments, it creates unique memorial sculptures and decorative sculptures to beautify the city.
In many landscape sculpture designs, there are also principles of layout. Generally speaking, they are all over the squares, flower beds, and boulevards of regular gardens, or the hillsides, meadows, ponds, or water in natural gardens. Landscape sculpture is an important factor in environmental decoration, because these garden sculptures can not only set off the garden environment, but also highlight its theme.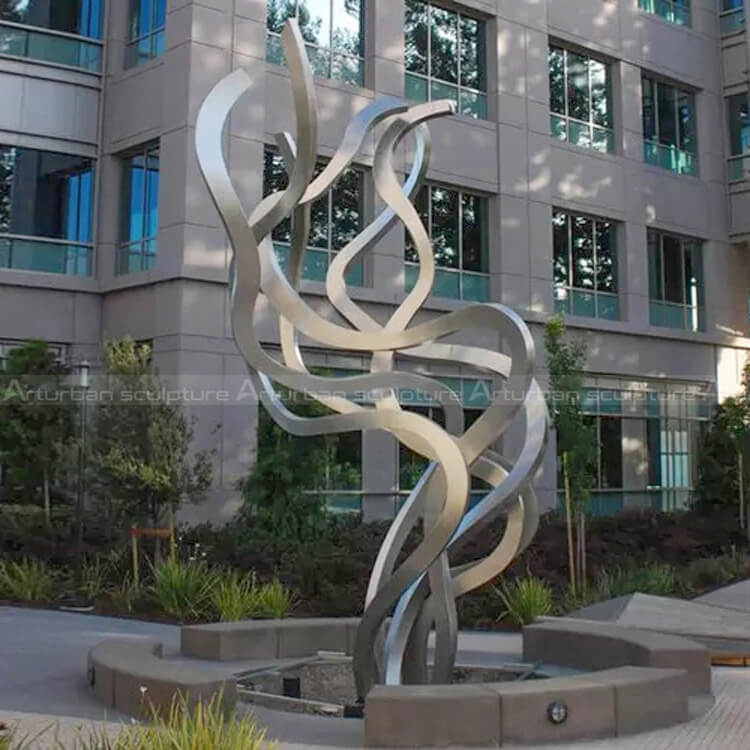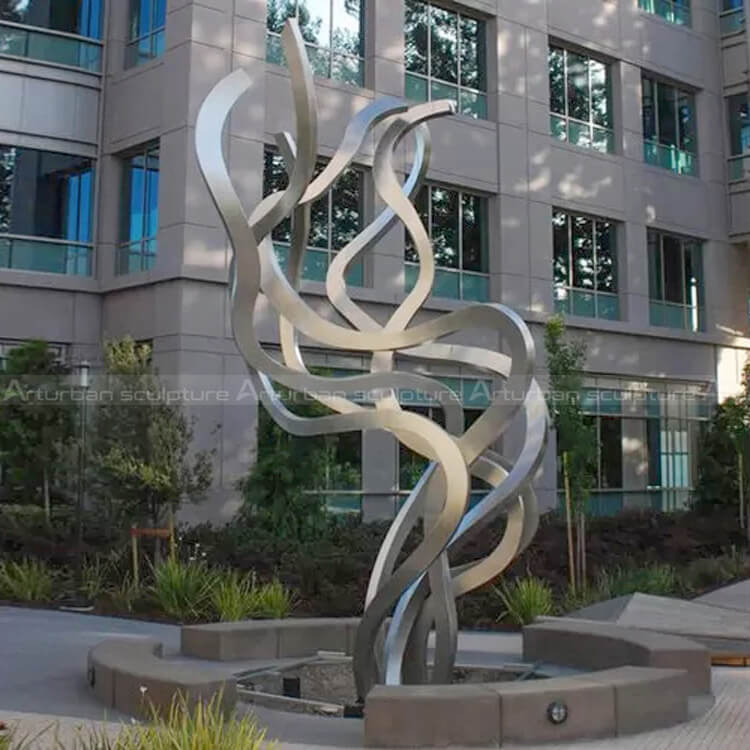 Stainless steel sculpture is the soul of environmental sculpture. Its unique silver white bright surface effect can make the whole sculpture look very eye-catching. It is usually the central symbol of the environment. Abstract stainless steel sculptures show the emotion and vitality of the image. Sculpture can give people solemn and solemn, or grand and tall, or leap and sublimation, or quiet and far-reaching beauty. Except consideration of aesthetics, people also have requirements for the quality and durability of abstract outdoor sculpture. Stainless steel sculptures are not easy to be rusty, easy to clean, strong wind resistance and durable, so they can become the mainstream of modern environmental sculpture.
Details of tall abstract floor sculptures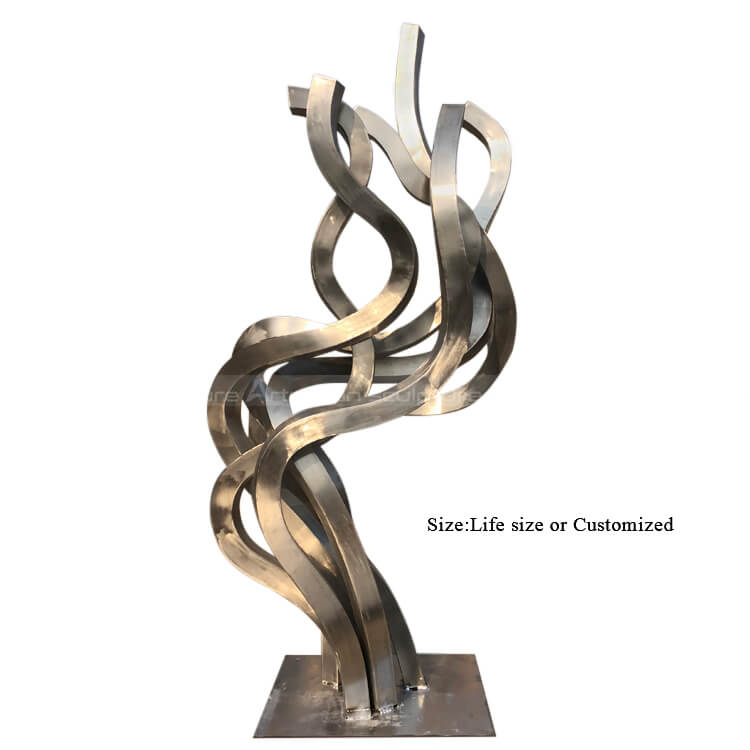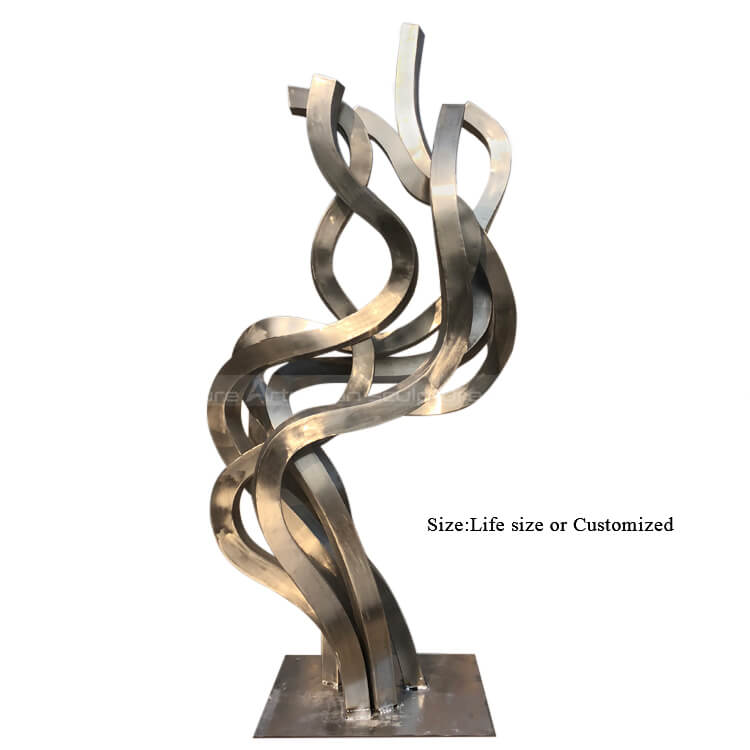 This tall abstract floor sculptures is made by our Arturban sculpture foundry. It not only has a unique shape, but also is handmade by artisans. The splicing process is precise, the surface is smooth and beautiful, and the edges and corners are clear, three-dimensional and lifelike. Each line of this sculpture appears in a naturally curved shape. They are irregular. Each line is like a floating ribbon. It freely floats to show its unique shape and shape. The whole sculpture looks very lively and pleasant, giving people a comfortable and smooth feeling.
We show the beauty of curvilinear sculpture in abstract art form, and show the simple and elegant line beauty in our life. Abstract stainless steel sculpture can not only play a decorative role, but also integrate with the surrounding to improve the overall image. The smooth surface of stainless steel and the fashionable modern art effect make this sculpture simple and elegant. The combination of outdoor environment and sculpture has become the finishing touch.
The simple and smooth lines are refreshing, bring fun to our boring life and bring a trace of vitality to the surrounding environment. Garden sculpture mainly acts on people's mind through visual induction. Even sculpture works play a decorative role. When people appreciate large abstract sculpture, their first sight is to appreciate its form and style language. Excellent sculpture works can give people connotation and artistic enjoyment.