Have you been amazed by the combination of Captain America and King Kong?
Outdoor Gorilla statue is the combination of king kong and American captain. Is this statue very domineering? Captain America is the soul of the entire Avenger alliance. He is a leader and a soldier. Unlike DC's Superman who relies on power to deter the world, Captain America guides the world by spirit. His team uniform has bright colors and colloidal texture, with a typical tights hero style. What kind of sparks will it collide with when it meets the violent and irritable King Kong? The furious captain of the United States King Kong statue beat his chest and feet, and the fashionable and modern art sculpture is beautifully displayed in front of us.
Outdoor gorilla statue introduction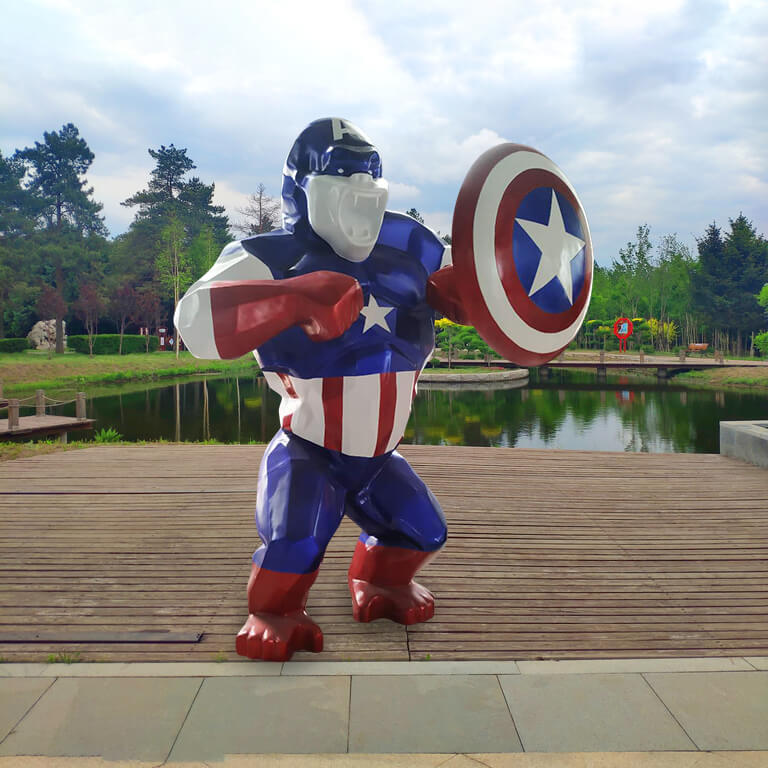 This fiberglass gorilla statue can be said to be full of fashion style. The abstract shape has more artistic effect. It has the momentum and image of King Kong. It has a long mouth, exposed sharp teeth, and both hands clenched fists and beat the chest. Its feet have the same shape as hands, which is its unique shape.
The appearance of this King Kong sculpture is in red, blue and white. On the whole, the hero looks more restrained and explosive. The classic action of holding the shield in his hand is the iconic gesture of Captain America. The bright red of his limbs is very eye-catching. The silver on his chest sign and shield are the symbol of the spiritual culture of Captain America. In addition, abstract geometric effects are used to depict the muscles, chest and other details of the sculpture, creating a strong and strong body.
What kind of sculpture details can produce fine works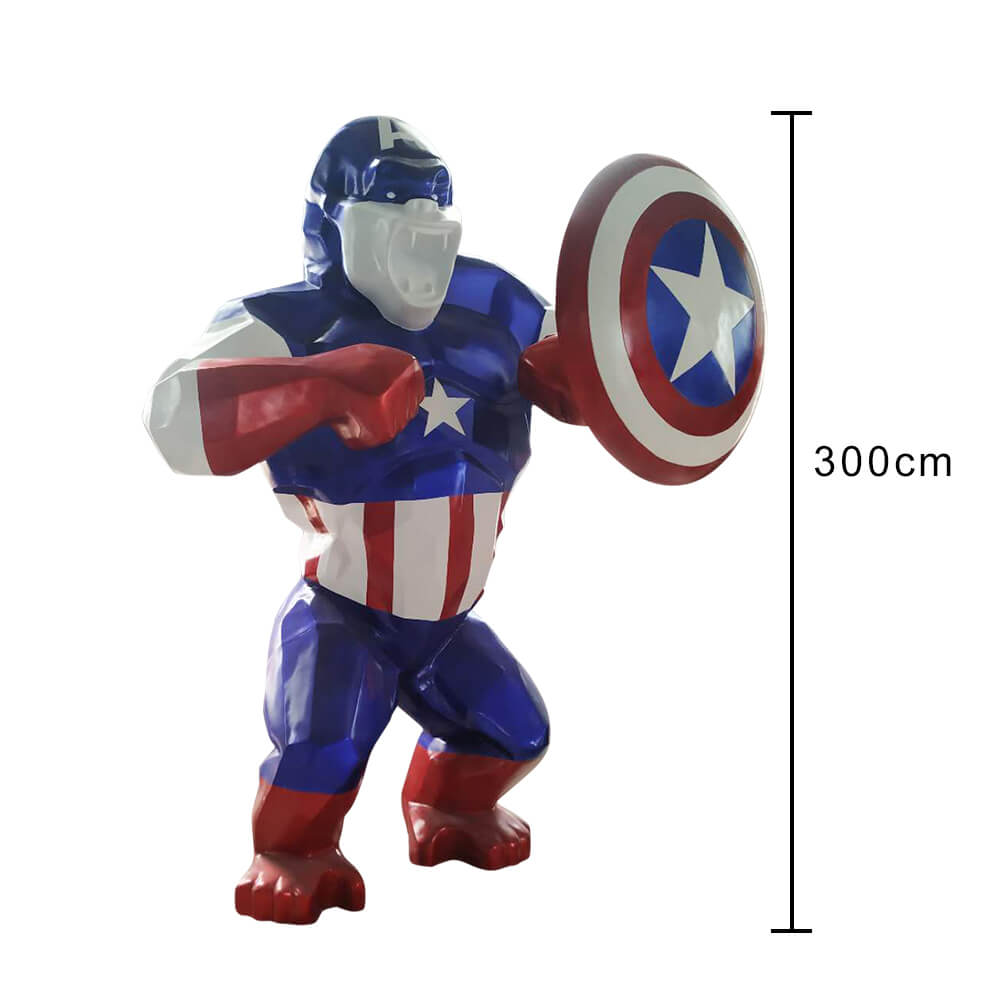 This Outdoor Gorilla Statue is based on the careful observation of the shapes of the two figures through many comparisons by our artists, and finally integrates them perfectly. They have their own characteristics in detail. This sculpture is made of fiberglass. It can not only vividly portray all the details of the sculpture, but also the high-quality outdoor car paint makes the sculpture form its unique artistic vision and become the soul of decoration. It gives people beautiful enjoyment, makes people feel happy and relaxed, and cultivates their sentiments.
This statue of Captain King Kong, born with a brand-new image, is suitable for various shopping malls, business centers, amusement parks, family living rooms… Its unique fashion shape gives people a stunning effect. Its beautiful colors have modern elements and fashionable taste. It will be a focus. It is also another kind of visual effect satisfaction for film and television lovers.
Send us your requiremnts now, we will reply to your email within 24 hours