1.What do lion statues mean in front of a house?
What do lion statues mean in front of a house? People are very curious about the meaning of lion statue in Feng Shui. when we go outside in daily life. We often see two mighty and domineering lion statues placed in front of house. As we all know, Lion is the king of beasts possessing bravery, strength and supreme power which makes people awe.
The mighty and majestic aura of the lion statue in front of house can not only beautify the environment and decorate the house. It is also said that it was once a symbol of nobility. It can guard the house and protect the owner from evil forces and vandalism as a deterrent.
Not only in front of house,but also shopping malls and banks are excellent places to decorate with lion statues.
2.Common Styles of Lion Statues Placed in Front of House
(1)Standing Lion Statue in front of house
Standing lion statue can not only increase the height of the space, but also give people a sense of defense. From a distance, it is like a dedicated guard, standing there, not letting any bad guys in.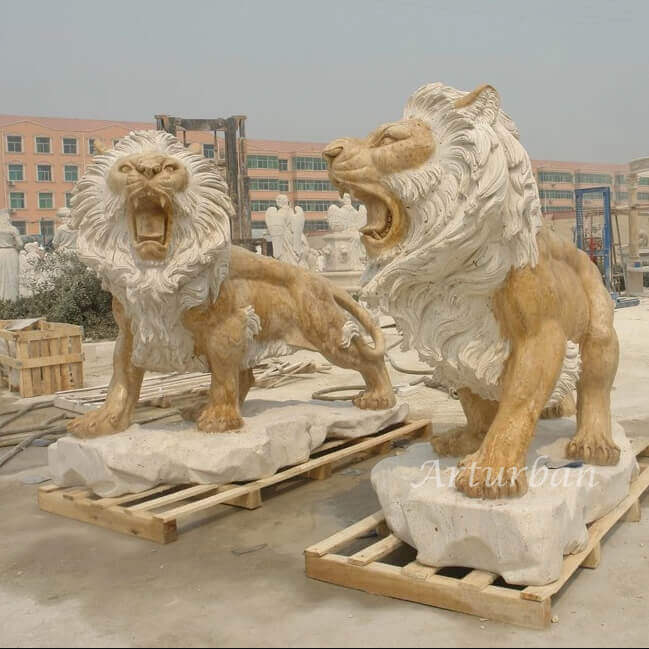 (2)Sitting lion statue in front of house
Sitting lion statues in front of house are often portrayed as relaxed images. At the same time, we will raise the height of base so that it has enough momentum and give a certain deterrent. It's like telling us that even if it is resting, it still has a high level of vigilance and will not let bad man in.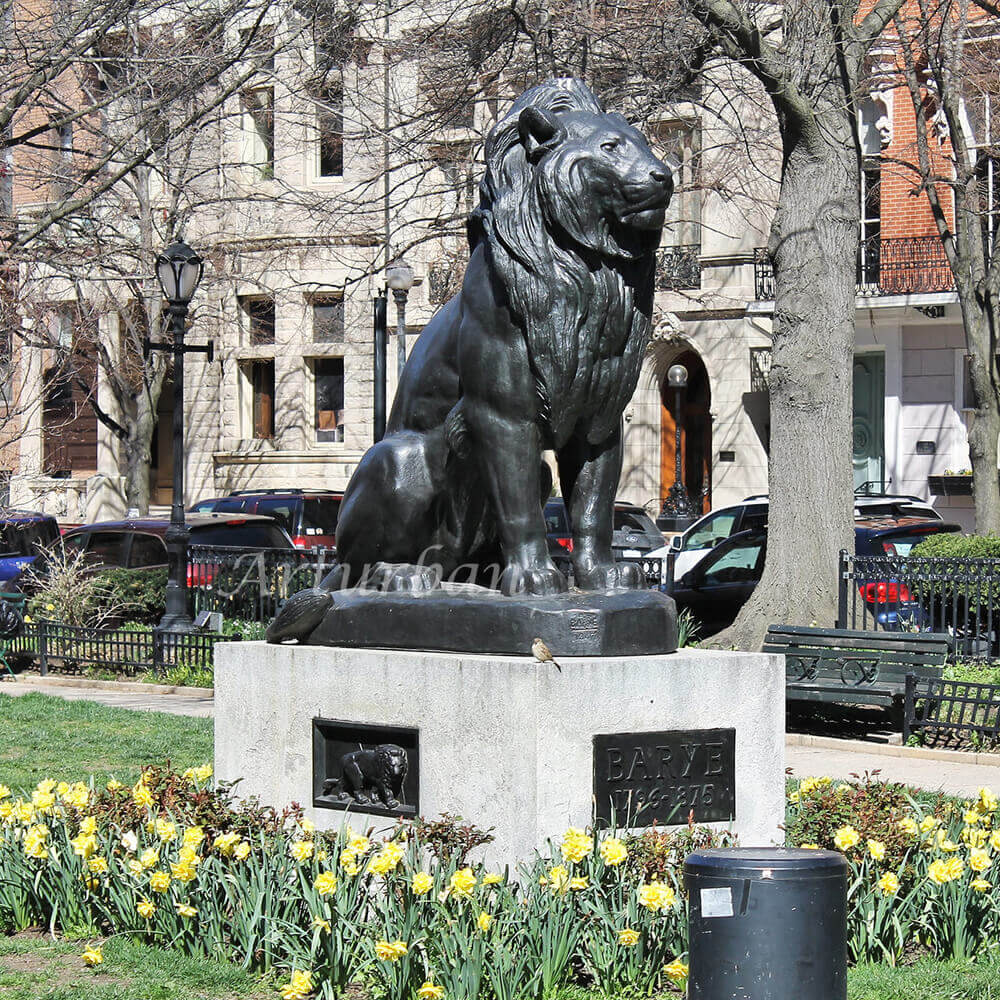 (3)Lying lion statue in front of house
Leaning or sleeping lion sculpture may be lying there and enjoying the sunbathing, as if he is already asleep. But when you approach quietly or enter, it feels that its sharp eyes will open instantly, maintaining a high degree of vigilance.
Chinese foo dog statue is also very famous, it have two lion statues,male lion statue is holding ball with one foot, its power is supreme, It is the protector of the house; Female lion statue is holding the cub with one foot, it protects everything including the family.
(5)Lion statues with shield in front of house
The lion statue with shield is very popular. The shields are often made with signs. It means house owner's career flourish under the guardianship of the lion.
(6)Lion statue with crown
Lion statue with crown represents right. The lion is the king of beasts and a symbol of strength, power and justice. Therefore, the lion statue with a crown on the head not only symbolizes a certain status in decoration, but also symbolizes the patron saint of justice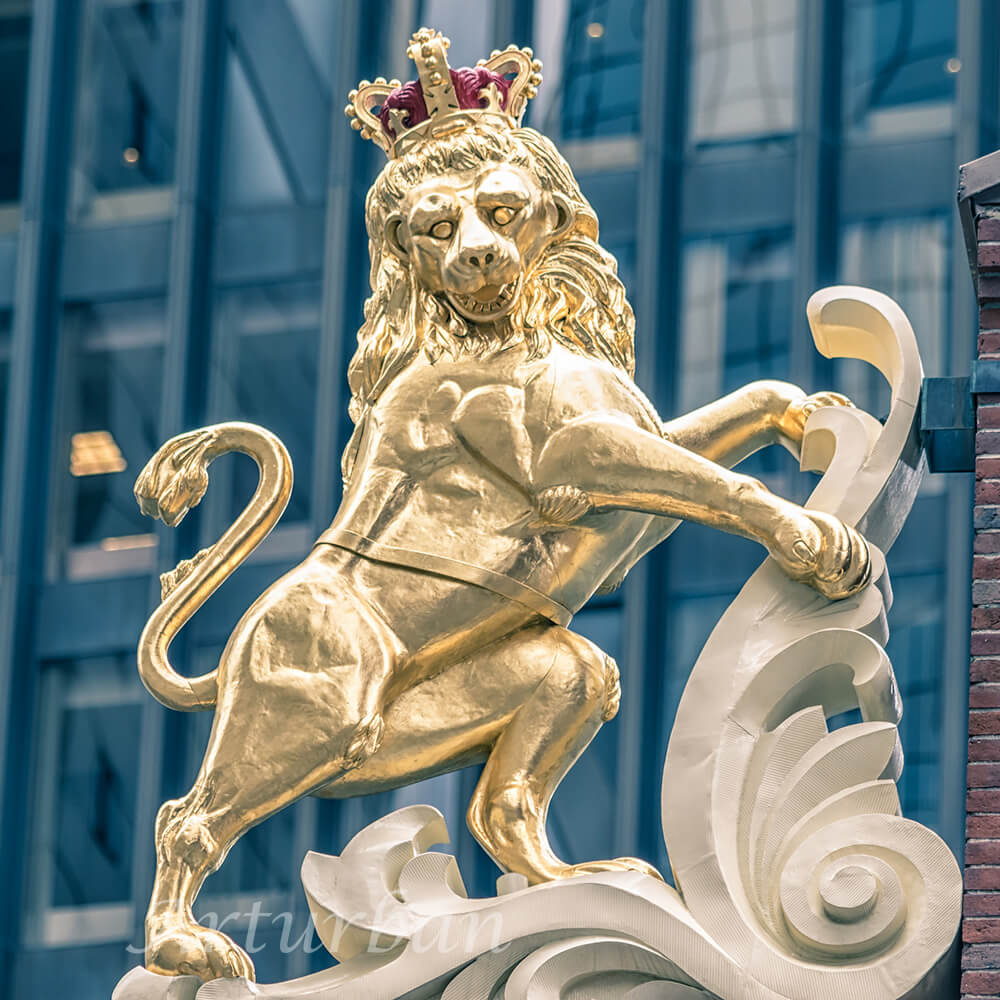 These majestic lion sculptures are placed in front of house. they stand guard and always have an impact on the surrounding people and things.
What can Arturban do? -We can customize lion statue in front of house
Arturban sculpture factory is with rich experience in sculptures production and committed to make each sculpture excellent. We have mature sculpture technology and rigorous attitude that makes all of our products high quality. Our clay master have rich experience and are very familiar with the structure and texture of figure and animals. Lion statues' details can be showed perfectly which can be appreciated from multiple angles. If you want lion statues for your house, please contact us at any time.We will serve you with our professional sculpture team.
Send us your requiremnts now, we will reply to your email within 24 hours