Botero bird of peace
Chubby bird garden statue is an artwork of Fernando Botero was born in 1932 in Medellin, Colombia. He is one of the most famous painters and sculptors in Colombia and Latin America. His works are unique and labeled "boterismo": he is famous for creating inflated characters and things. His works are usually political or humorous. Botero's works of art and sculptures are all over the world.
Botero produced a large number of sculptures and paintings depicting obese animals: birds, horses, cats and dogs. One of the most famous is the "bird of peace". The creation of this bird symbolizes peace. At present, the sculpture of this bird is on display at Botero Museum in Singapore and Botero square in Medellin. This bird sculpture has been the subject of many news reports, including a guerrilla bombing of the sculpture in Medellin Botero square in 1995. Instead of replacing the statue, Botero created the same statue and placed it next to the original statue. It is to reinforce the idea that the city would not be destroyed by terrorists.
In order to commemorate the success of the peace negotiations between the Colombian government and the FARC, the largest guerrilla in the country, and sign the Colombian peace agreement, he once again made a white "bird of peace" (Paloma De La Paz) for the Santos government. On the eve of the referendum on the peace agreement, Botero's specially produced "bird of peace" arrived at the presidential palace Casa de NARI ñ o in September 2016, praying that the peace agreement could pass the referendum smoothly and benefit future generations of the Colombian people. Later, it was moved from the presidential palace to the National Museum for public viewing.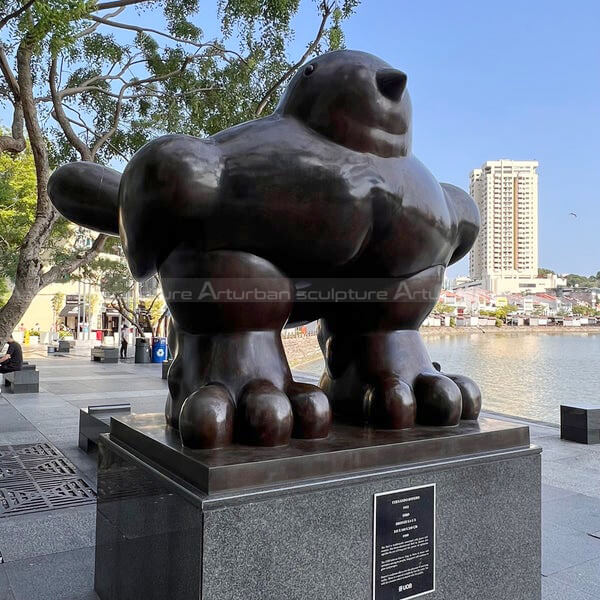 details of the peace bird statue
This fat bird sculpture is very memorable. Its lifelike form is created by the sculptors of our Arturban sculpture foundry who highly restored the Botero style art work. Its distinctive shape leaves a deep impression. The shape of the fat bird is like full of gas. The smooth sculpture surface, the fat feet have swollen rounded toes, and its wings seem to become smaller against the background of its body. Its round eyes and small mouth make its image both cute and interesting. The sculpture shaped by smooth curves allows you to feel its unique effect from any angle, and the smooth lines give people a sense of comfort. Its fat body gives it a heavy weight, as it plays a decisive role in people's hearts.
Chubby bird garden statue is not only a memorial, but also a symbol of peace, unity, friendship and holiness. The bird of peace, which is suitable for the garden, square… The sculptor gave it the new mission. It will become the embodiment of the "Holy Spirit" and the messenger of peace. At the same time, it also represents the good wish of people to stay away from the misfortune of war, cherish peace and love life.
Send us your requirements now, we will reply to your email within 24 hours