Interesting Monopoly game
Alec Monopoly statue for sale is very popular. Have you ever played Monopoly? Mention this name, many players should have a little impression, feel like in the distant past. This reminds you of the time when you played Monopoly. As a real estate Tycoon, you contracted real estate all over the world and collected tolls from others unapologetically. This is happy, simple and pure.
As one of the most well-known board games, monopoly has been loved by players all over the world once it was launched. Later, it also produced very classic video games in China, which brought unforgettable memories to many people. Its rules are simple and easy to understand. It is suitable for all ages and is full of random fun. Once you study deeply, you can also find that there is an implicit discussion of reality.
And back to the earliest English original, its name is "monopoly" – a word with economic meaning. Although monopoly gives people the impression that it is an interesting game, the original intention of its creator is to popularize the disadvantages of real estate monopoly by tycoon and plutocrats.
Street artist Alec monopoly's name comes from the trading based board game in which players buy and sell property, accumulate money and try to bankrupt their opponents. The artist used the role of rich "Uncle" pennybags, the game's mascot, to express his criticism of capitalist greed. In the scene of Alec monopoly, the bearded character sprints with a purse under one arm and laments the lack of universal health care. Alec Alec monopoly uses cartoon style to comment on the problems of the real world, conveying a simplified and exaggerated message. However, it is reasonable to condemn the rupture of the economic system.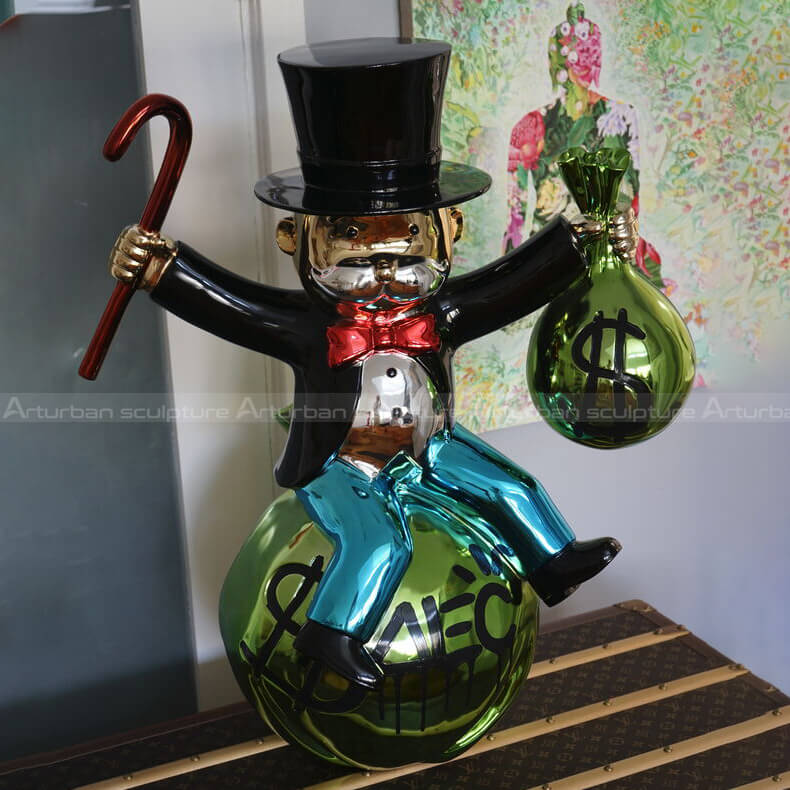 Details of the sculpture of the Alec monopoly
Alec monopoly has established himself as one of the most important artists in this genre. His unique style adopts a relaxed approach rather than the typical cold tendency of street art, which distinguishes him from his contemporaries and endows his art with a relevant quality.
The Alec monopoly holds a large money bag in his hand and a red crutch in his other hand. He sits on a green shiny ball, wearing a suit and a high Jazz cap, which vividly portrays the image of the Alec monopoly. The acrylic art of reflective icons makes the sculpture more colorful. It not only shows a half joking interpretation of capitalism and luxury goods, but also shows the cartoon image of the Alec monopoly in front of people.
The reflective icon series is Alec Monopoly statue for sale. It has an electroplated cast composite material completed by the artist with acrylic paint. Alec thinks that the shiny electroplated surface is suitable for the iconic icons Alec monopoly, Ritchie and Scrooge. But he wants to go further by spraying each sculpture to show the origin of his street art and graffiti. The classic Alec monopoly sculptures have bright colors and mirror like brightness, which are full of fun. People can't help watching such a greedy image. They are full of money.
Send us your requiremnts now, we will reply to your email within 24 hours