1.Introduction of whale tail sculpture
Whale tail sculpture is a symbol of love. Whale can reflect the courage of love, not afraid of any disturbing factors, and express the true meaning of love. Generally, whales are relatively large. It can be said that they stand at the top of the biological chain. No animals can threaten their survival, so they can swim freely and move forward in the vast ocean. They also show the freedom of love and are not affected by any external force shackles. Whales, like humans, are monogamous. After two whales determine their love relationship, they will determine each other and stay together for life and death. Later, whales gave birth to a baby whale every few years. Female whales stop giving birth only after menopause at the age of 30-40, which is almost the same as people, so it is most appropriate to use whales to symbolize love.
This sculpture is the image of the tail of two whales, just as two swimming whales throw their tails out of the sea. Its simple shape and rich implication represent the symbol of pure and sacred love. This sculpture is carefully made by our sculptors. Its shape is simple and elegant. It has a high demand for the smoothness of the surface, so as to show the overall beauty. Therefore, our sculptors show the beautiful surface through repeated polishing. We also have different shapes of whale sculptures, which are fashionable and generous, and can be decorated on many occasions. If you like beautiful whale sculptures, you can contact us at any time to learn more details.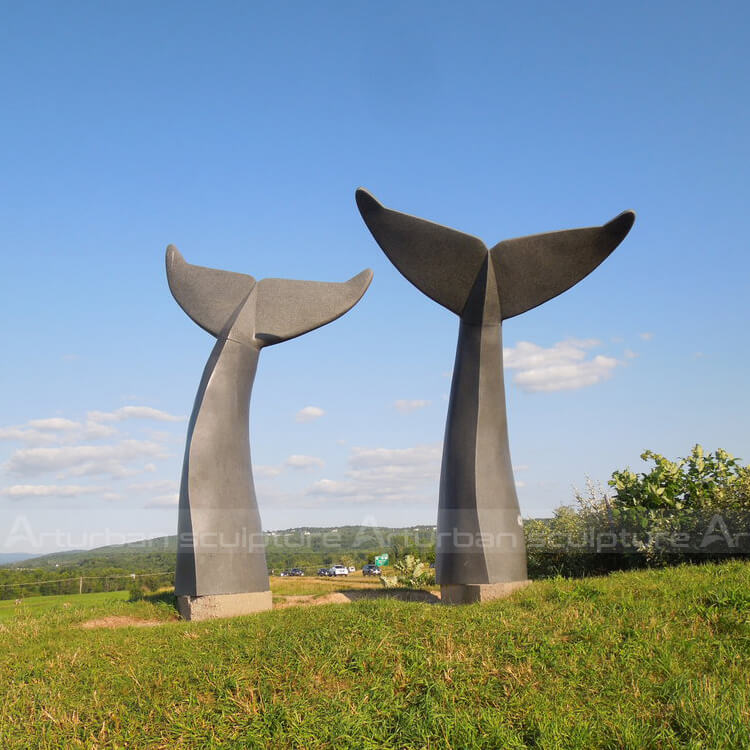 2.Production Proccess of whale tail sculpture
1. Confirming the details drawing/ 3D mold/ Pictures with clients.
2. Making clay mold according to drawing/ client's photos/ 3D mold.
3. Lost-Wax casting bronze/brass statues.
4. Welding and Chasing.
5. Patina and wax surface, take all different views pictures/ videos, show to clients.
6. Packing into wooden cases after clients are satisfied with sculptures.
Send us your requirements now, we will reply to your email within 24 hours