1.Introduction of life size shark statue
This life size shark statue is a striking artwork that showcases the wild and mysterious aspects of nature. The sculpture is meticulously
designed by the artist, taking into account details to create a dynamic scene.
This sculpture is situated in a lifelike aquatic environment, where we see a white shark and a majestic crocodile. Their mouths are wide
open, revealing fearsome sharp teeth. This scene captures an instant confrontation between two highly threatening aquatic organisms,
as if they are about to engage in a fierce conflict. This tension and dynamic feeling make people stop and observe this magnificent scene
in detail.
The decorative function of this Outdoor Shark Statue is eye-catching. Whether placed in outdoor public places or private gardens, it can
attract people's attention, stimulate interest and discussion. It is not only a decoration, but also a medium that triggers thinking and discussion
about nature. It reminds people of the diversity of aquatic organisms and our responsibility to protect this diversity.
In terms of production advantages, this sculpture must have undergone high-level craftsmanship and technology to ensure its details and
quality. The sculpture uses materials with high weather resistance to maintain its durability. At the same time, the artist's craftsmanship
and sense of design are also crucial, making sculptures highly expressive and realistic.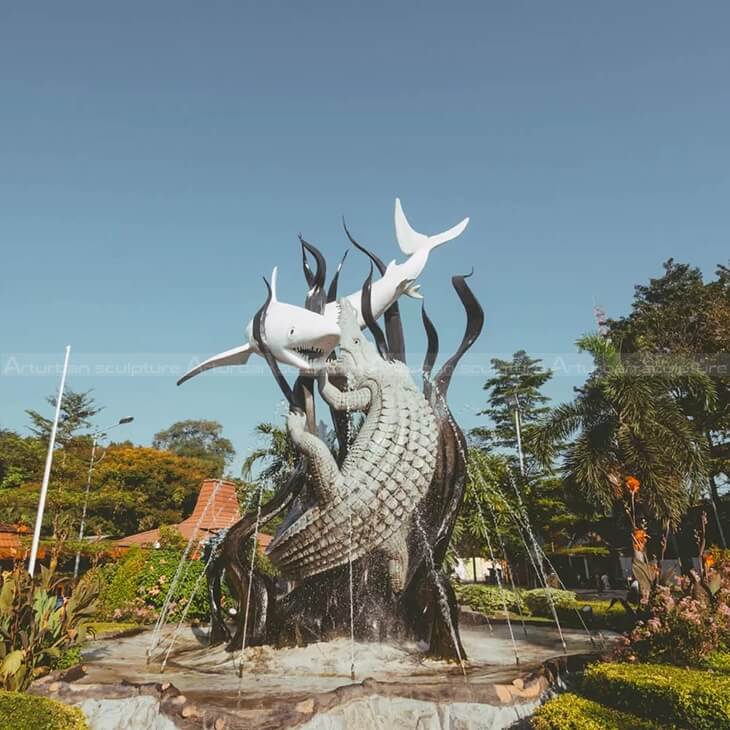 2.Production Process of life size shark statue
1. Confirming the details drawing/ 3D mold/ Pictures with clients.
2. Making clay mold according to drawing/ client's photos/ 3D mold.
3. Lost-Wax casting bronze/brass statues.
4. Welding and Chasing.
5. Patina and wax surfance, take all different views pictures/ videos, show to clients.
6. Packing into wooden cases after clients satisfied with sculptures.
Send us your requirements now, we will reply to your email within 24 hours