1.Introduction of feather art sculpture
This feather art sculpture is very beautiful. It is composed of many stainless steel feathers, forming a circle. The details of each feather meticulously
depicted, with smooth lines and realistic patterns and shapes. The entire sculpture appears light and elegant, as if it can fly at any time.
Stainless steel Silver Feather Ornament are suitable for decoration in various indoor and outdoor occasions, such as parks, squares, commercial
buildings, etc. In outdoor public places, stainless steel feather sculptures can be used as landscape decorations, bringing visual enjoyment to people,
enhancing the sense of space and artistic atmosphere. In commercial buildings, stainless steel feather sculptures can be used as decorations for lobbies
or offices, enhancing the overall temperament and image. At the same time, the special materials and bright colors of stainless steel feather sculptures
can also serve as photography scenes or backgrounds, attracting people to take photos as souvenirs.
Stainless steel has high strength and corrosion resistance, and not easily affected by the natural environment, so it can displayed indoors or outdoors
for a long time. Stainless steel materials have the characteristics of strong plasticity, good plasticity, and high customizability. They can accurately create
the desired shapes and details according to the requirements of designers, presenting a more realistic effect. In addition, stainless steel material has a high
glossiness and can reflect beautiful light under sunlight or light, increasing the visual effect of the sculpture. Therefore, stainless steel feather sculptures have
advantages such as strong durability and aesthetics.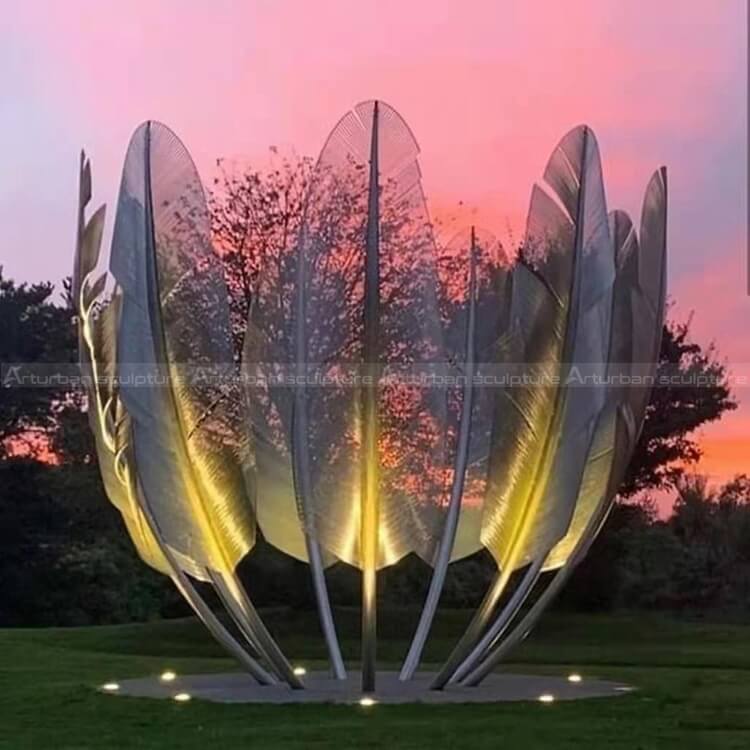 2. Production Process of feather art sculpture
Send us your requirements now, we will reply to your email within 24 hours.