1.Introduction of large gold lion statue
This large gold lion statue is very magnificent. A strong lion roars loudly, has a pair of sharp claws and steps on a big ball. It has a pair of huge wings, we can clearly see pieces of feathers. It has a pair of wings, domineering and exposed, just like a majestic guardian. Serious expression, clear and smooth muscle lines. Moreover, the lion's mane is thick and long, which makes it more aggressive. The golden shape is like emitting golden light, which is very sacred.
When these solemn and powerful beasts are placed on both sides of the mansion and the entrance of the manor, they stand guard there. Their beautiful image and dignified expression are always with you like guardians. At the same time, when it has wings, it becomes more powerful. Can better protect us. This big lion statue is made by our sculptor. It vividly shows the shape, action and appearance details of the lion. We use high-quality automobile paint to color with thermal assistance, which not only makes the color uniform and natural, but also prolongs the retention time. We also have various designs of lion sculptures, which can let you decorate various occasions. You can contact us for more details.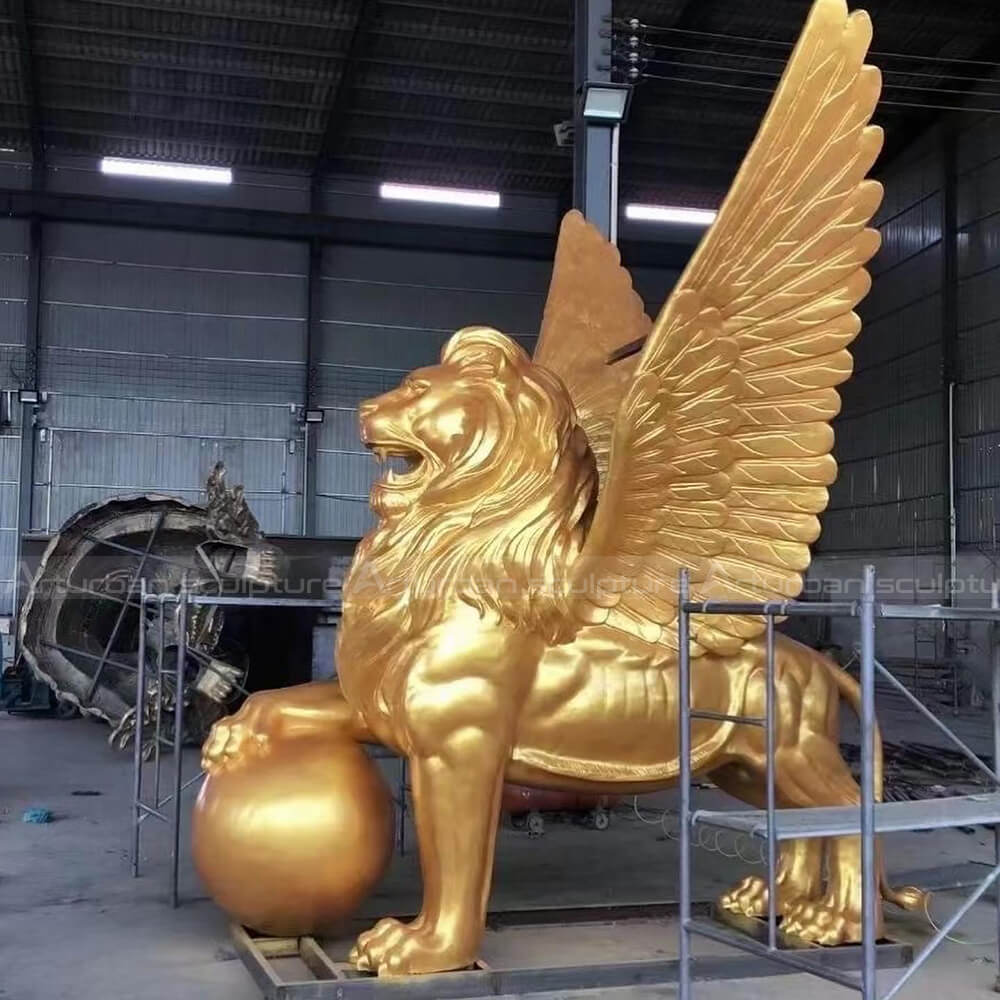 2. Other lion designs ( we also can customize design as you want)

3.Production Process of large gold lion statue
1. Confirming the details drawing/ 3D mold/ Pictures with clients. You can supply us with several photographs with dimensions.
2. Making clay mold according to drawing/ client's photos/ 3D mold.
3. Lost-Wax casting bronze/brass statues.
4. Welding and Chasing, which is the key step to make fine high quality statue.
5. Patina and wax surfance, take all different views pictures/ videos, show to clients.
6. when clients satisfy the statues, we will use Strong wooden crate with waterproof and shockproof foam inside.
Send us your requirements now, we will reply to your email within 24 hours