1.Introduction of girl reading book sculpture
This is a girl reading book sculpture. The girl appearance is very attractive, her delicate face, delicate facial features,
paired with a hat, showing a unique temperament and personality. She lay on the ground, her feet raised, her hands
resting on her chin, her eyes focused and serious. As if completely integrated into the story of the book.
The Little Girl Reading Book Statue, as a work of art, has high decorative value. It can be used as an indoor decoration,
placed in places such as the study and living room, adding artistic sense of the entire space. Secondly, it can also serve
as a garden sculpture, placed in parks, squares, and other places, making it a good place for people to relax, entertain,
and take photos. Moreover, due to the theme of girls' reading, it can also serve as a cultural symbol, symbolizing the
importance of knowledge, learning, and thinking, thus becoming an educational decoration.
The production of bronze girl reading sculptures has many advantages. Bronze is light weight metal that can effectively
protect the structure and details of sculptures, making them durable and show in front of the audience. Secondly, the
production of bronze sculptures requires superb skills and experience, so each bronze sculpture is unique, which makes
it highly collectible and culturally valuable. Finally, bronze sculptures can be produced using casting techniques, which
can quickly and accurately replicate multiple sculptures to meet the needs of different places. These advantages make the
production of bronze girl reading sculptures a highly valuable art form, which can showcase the creator's skills and bring
beauty enjoyment and cultural education to society.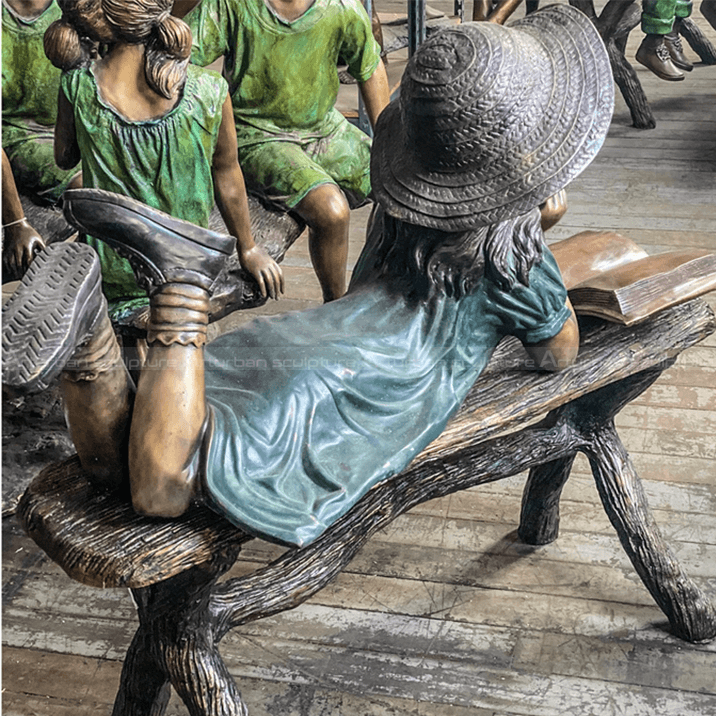 2.Production process of children on slide bronze statue
1. Confirming the details drawing/ 3D mold/ Pictures with clients.
2. Making clay mold according to drawing/ photos/ 3D mold.
3. Lost-Wax casting bronze/brass statues.
4. Welding and Chasing.
5. Patina and wax surface, take all different views pictures/ videos, show to clients.
6. Packing into wooden cases after clients satisfied with the works.
Send us your requirements now, we will reply to your email within 24 hours