1.Introduction of mother and child reading sculpture
This is a mother and child reading sculpture. A mother and three children sat on a bench reading together.
The mother was holding a book in her hand, and all three children were staring at it. The youngest child sat
cross legged on the bench, leaning towards his mother with a focused expression on his face. My mother
looked relaxed with her hair scattered. This sculpture demonstrates the importance of family reading and
the role of mothers in the family, as well as the power of reading. In this digital era, this sculpture reminds
us to return to reading and feel the thought enlightenment and spiritual satisfaction brought by paper books.
Bronze Reading Statue outdoor is an exquisite artwork that not only displays the scene of a family reading
together, but also serves as a beautiful decoration. It can be placed in public places such as libraries, museums,
parks, etc., providing a warm reading environment for people. It can also be placed in the living room, study,
and other areas of the home, creating a cultural atmosphere for the family. In addition, bronze reading sculptures
have beautiful shapes and exquisite details. They are not only decorations, but also works of art, allowing people
to appreciate the beauty and value of art.
The advantages of bronze sculpture production include its durability, stability, and artistry. Bronze is a material with
high durability and stability, which is not easily affected by oxidation and corrosion even after prolonged exposure to
wind and rain. At the same time, the production of bronze sculpture has a high degree of artistry, which can showcase
the details and dynamics of characters in the sculpture, thereby enhancing the artistic value and ornamental value of
the work.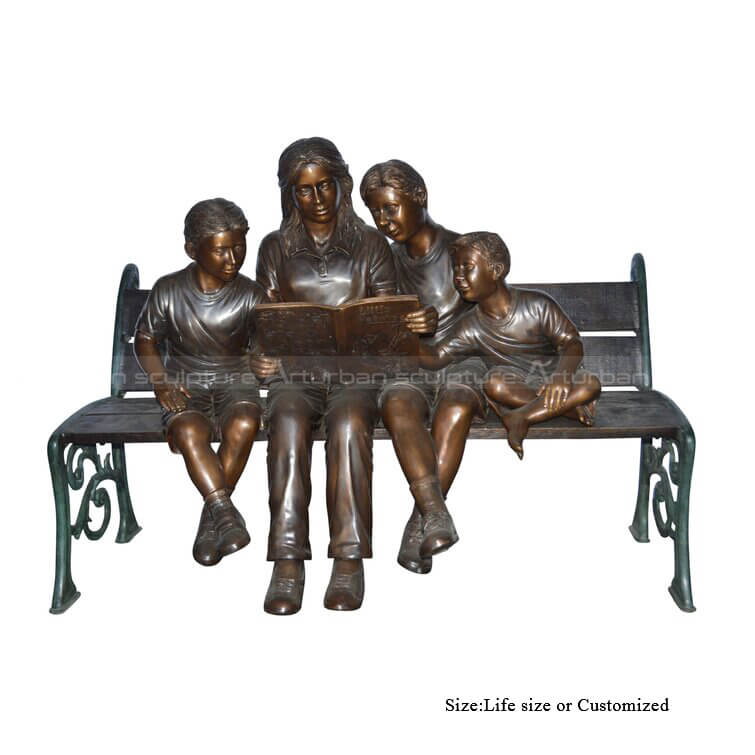 2.Production process of mother and child reading sculpture
1. Confirming the details drawing/ 3D mold/ Pictures with clients.
2. Making clay mold according to drawing/ photos/ 3D mold.
3. Lost-Wax casting bronze/brass statues.
4. Welding and Chasing.
5. Patina and wax surface, take all different views pictures/ videos, show to clients.
6. Packing into wooden cases after clients satisfied with the works.
Send us your requirements now, we will reply to your email within 24 hours