1.Introduction of crown lion statue
This pair of crown lion statue with feet on shields are customized sculptures for our customers. The lion has a golden crown on its head, which lays the foundation for the lion to be the "king of beasts" and a symbol of power and justice. The lion roared loudly with his mouth open, showing his sharp teeth, which made people shudder. His eyes stared round, and even his eyebrows stood up, expressing his anger. It stands on the cornerstone, one foot on a shield, very dignified. This image shows that no matter the seal of the company or the family, the totem is carved on the shield. Under the protection of the lion, no one can destroy it and acts as a patron saint.
This lion statue pair is made of high-quality bronze, which vividly shows the ferocious image of the lion. We used the lost wax manufacturing method to capture the details of the lion. The lion's fluffy hair, sharp teeth, sharp claws and strong muscles are lifelike. This sculpture is decorated with white color, which makes the sculpture full of European decorative style and more sacred. Our shield lion sculpture supports customization, and you can add logo or text on the shield for free. You can also contact us at any time for more details.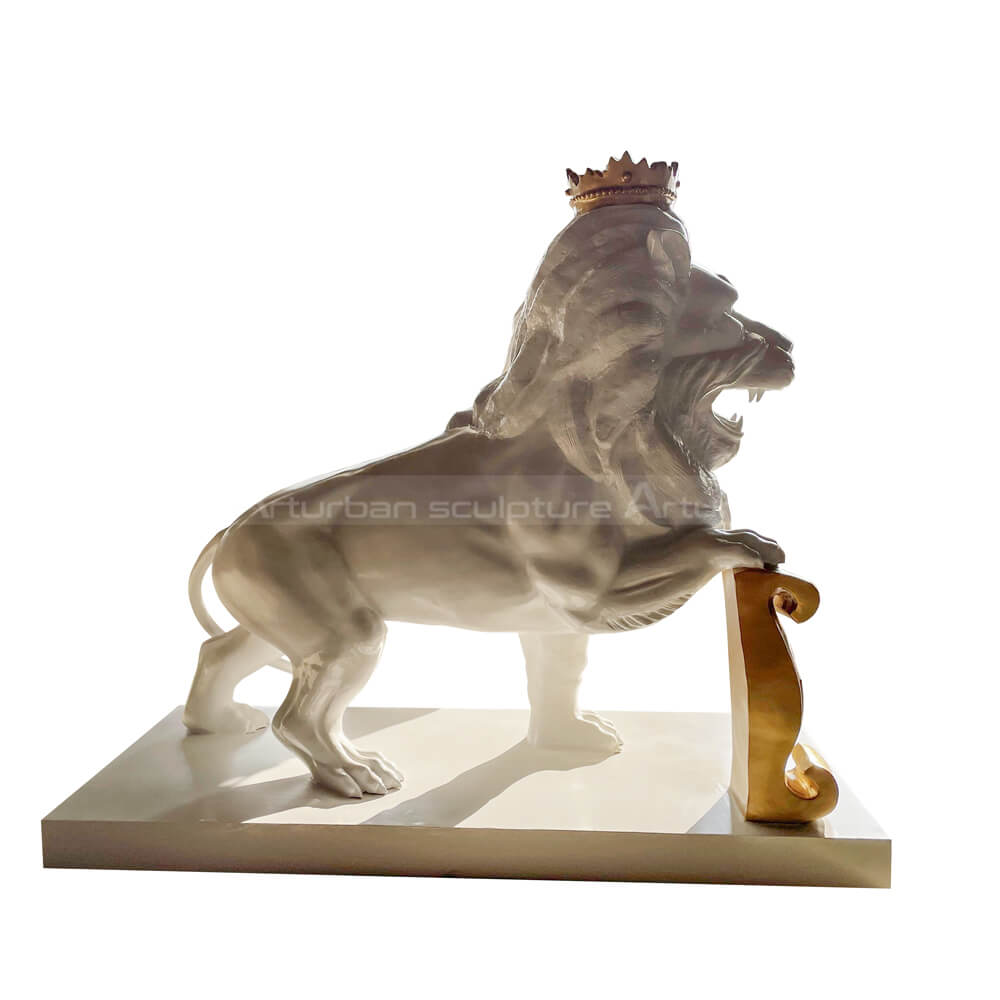 2. Other lion designs ( we also can customize design as you want)

3.Production Process of crown lion statue
1. Confirming the details drawing/ 3D mold/ Pictures with clients. You can supply us with several photographs with dimensions.
2. Making clay mold according to drawing/ client's photos/ 3D mold.
3. Lost-Wax casting bronze/brass statues.
4. Welding and Chasing, which is the key step to make fine high quality statue.
5. Patina and wax surfance, take all different views pictures/ videos, show to clients.
6. when clients satisfy the statues, we will use Strong wooden crate with waterproof and shockproof foam inside.
Send us your requirements now, we will reply to your email within 24 hours