1.Introduction of bronze lady fountain
Bronze lady fountain is now one of the most common sculptures. it is widely used in life.  Bronze girl Fountain sculpture is more diverse with unique fountain styles. not only good-looking, but also can protect the environment and purify the air. The bronze lady fountain with blue dress is standing on the base. She looks very beautiful. The lion's head and flower patterns is very ancient, full of mysterious totems. She held the bottle in her right hand and poured water into the pot. Our sculpture combine character decoration with fountain, which is both distinctive and vivid.  with more than 20 years' experience in sculpture production, we not only can carve very fine details, but also can can offer super quality sculprue. We also have a variety of fountain designs, you can contact us for more details.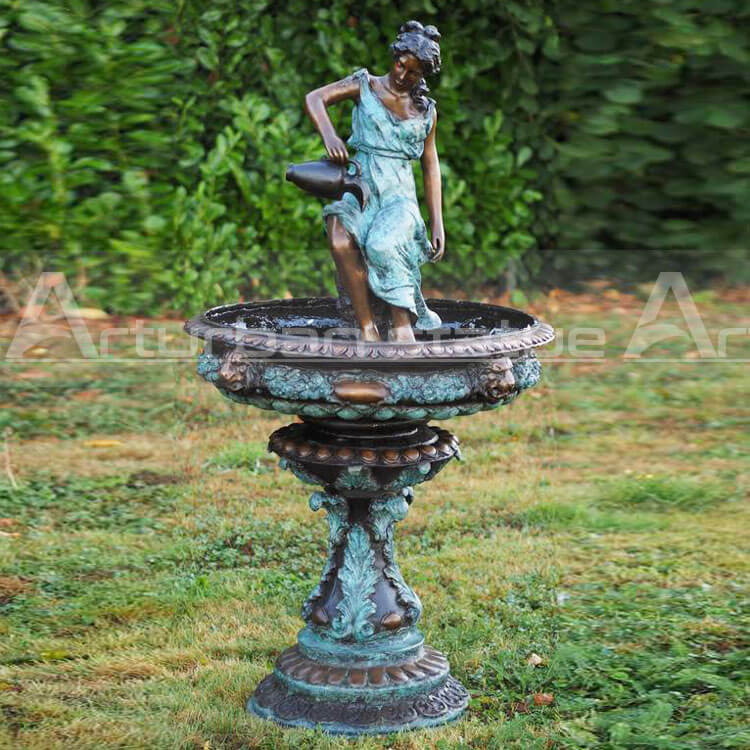 2.Production Process
1. Confirming the details drawing/ 3D mold/ Pictures with clients.
2. Making clay mold according to drawing/ client's photos/ 3D mold.
3. Lost-Wax casting bronze/brass statues.
4. Welding and Chasing.
5. Patina and wax surface, take all different views pictures/ videos, show to clients.
6. Packing into wooden cases after clients are satisfied with sculptures.
Send us your requirements now, we will reply to your email within 24 hours