1.Introduction of our lady help of Christians statue
This is well-known our lady help of Christians statue, it is very famous. Saint Bernard claimed that she saw the appearance of a woman in white and blue ribbon many times, and finally the woman claimed to be an original sinner. Her many appearances help people find water, help people pray and bring peace to people. Therefore, as an example, people established this statue of the Virgin Mary to help Christians, which is respected and worshiped by many people.
In this standing sculpture, she wore a robe, looked down at her believers, smiled kindly and opened her arms, as if spreading hope and light for people. Become an admirable goddess under the golden light. When I pray to God, I think of the Virgin Mary, the daughter of the Eternal Father and the mother of the son of God, who will pray for us and bless and protect each of us. We also have religious sculptures such as Michelangelo Sculpture Mary and Jesus for you to choose from. If you are looking for high-quality religious sculptures, you can contact us for more detailed  materials.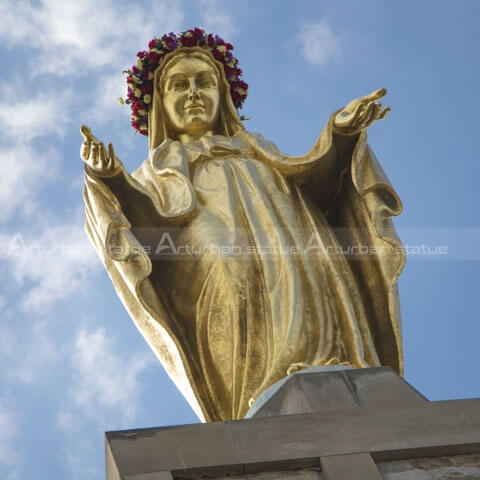 2. Designs of Jesus and Mary statue (we can customize Mary and Jesus statue as your design)
3.Production Process of our lady help of Christians statue
1. Confirming the details drawing/ 3D mold/ Pictures with clients.
2. Making clay mold according to drawing/ client's photos/ 3D mold.
3. Lost-Wax casting bronze/brass statues.
4. Welding and Chasing.
5. Patina and wax surface, take all different views pictures/ videos, show to clients.
6. Packing into wooden cases after clients are satisfied with sculptures.
Send us your requirements now, we will reply to your email within 24 hours.