Fernando Botero — the world of the fat
Reclining Woman by Fernando Botero is a fat smoking woman. Among the artists with the label of "fat" in the world, the most famous is Colombian artist Fernando Botero. What made him famous was a painting, the fat "Mona Lisa". Botero is considered to be one of the most important living artists in the world. He is the only living artist invited to exhibit large-scale sculptures in the Champs Elysees in Paris.
Botero: "I've never painted portraits of fat people. I'm just obsessed with the beauty of body presented by" fat "and how to transcend the dimension of reality through volume. In my art world, a "plump" apple can better show the aesthetic experience than a real apple. Art and reality are two parallel worlds, and the former can express the plump beauty in my imagination. Many artists create their own style through color, such as Van Gogh and Matisse, while I realize my artistic style through volume. I appreciate many painters at the division level, including Valaquez in the 17th century and Viero della Francesco in the 15th century. They create different beauty and styles through the body of objects. "
Fat people use vivid body language to interpret different stories. It is not necessarily a grand story. Maybe it is a "process" in a moment.
This smoking woman sculpture is a classic sculpture created by Botero, which perfectly reproduces the Botero style art in the sculpture image of this fat woman, and brings us a feast of visual enjoyment.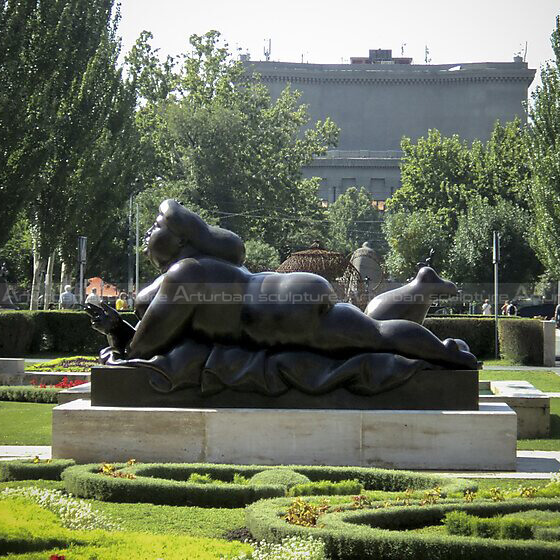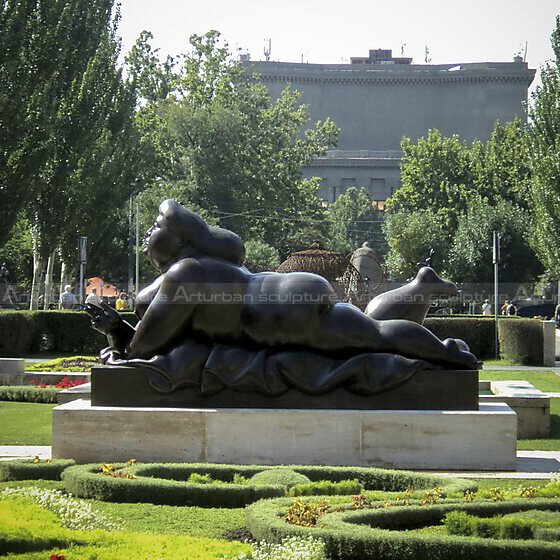 Details of the Reclining Woman by Fernando Botero
This sculpture is a fat naked woman sculpture. It is suitable for outdoors in the garden, square, bustling city… Will become the focus of attention. She taut her face so that we couldn't see her mood. She was lying on a small bed with a round body. The blanket under her body hung casually by the bed, with cigarettes in her hands. Her plump arms made people want to pinch it. Pedestrians appreciated her unique style when passed by her, and she was also like a viewer, enjoying the passing of pedestrians leisurely, as a pleasurable occupation.
Reclining Woman by Fernando Botero is carefully made by our Arturban sculpture foundry for customers who love Botero's sculpture style. It highly restores the Botero style artistic effect, and the movement details of the characters' hands and the shape of their fingertips are very vivid. We feel her round and gentle forehead, and her plump lines are showing in detail, which makes us feel that this is what the fat man is like. At the same time, the sculpture uses small cigarettes to contrast the huge figure of the woman, showing Botero's humorous artistic style. Botero style sculpture is a very popular art sculpture. Her unique shape and form will add a lot of fun to our life.
Send us your requirements now, we will reply to your email within 24 hours