French artist Laurence Jankel and candy sculpture
Large candy sculptures is attactive red color. Compared with the great people's memorial statues, there are many humorous and creative sculpture art that is also full of boundless fun. Today, we have selected a creative and unique classical sculpture — candy sculpture.
The fiberglass sugar sculpture was created by French artist Laurence Jenkel. They have been exhibited in 25 countries and regions and have been permanently exhibited in public and private collections. Each candy wrapper has the national flag of different countries, representing each member country and region of the group of 20 (G20).
Lawrence Jenkel describes various forms of candy: painting and sculpture. This simple object of desire became her preferred object.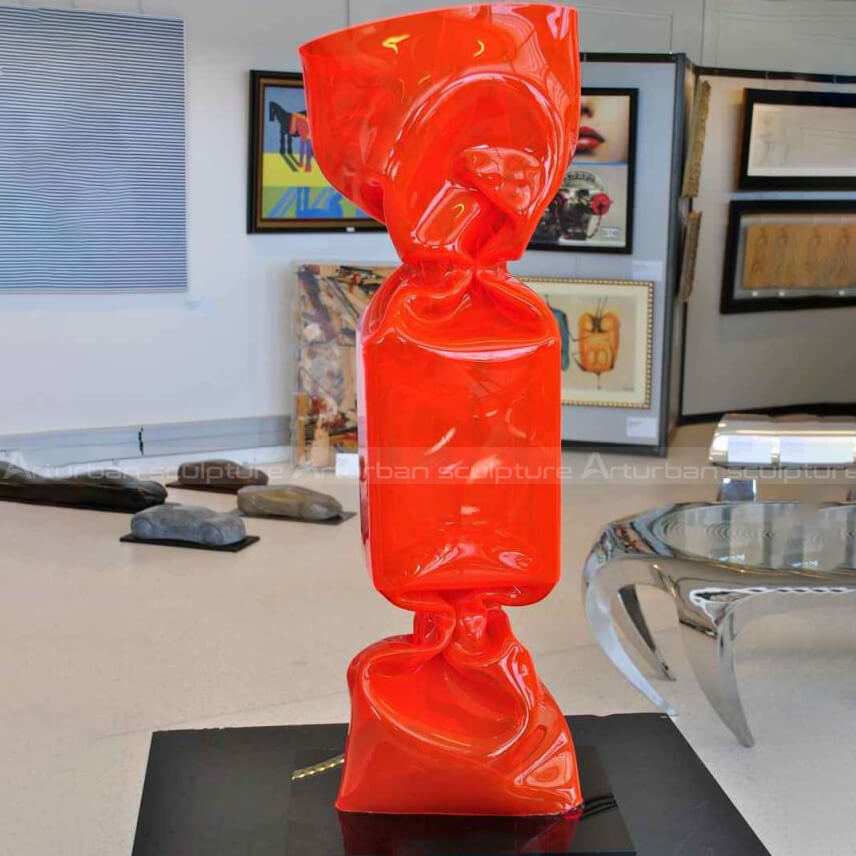 The materials reflect her expression of fragments, including plexiglass, polyester, aluminum, bronze and marble. Laurence Jenkel's interpretation of candy is not just a medium, but a "language".
Some people may say that her candy sculpture is a radical gesture, which originates from the semantic content of pop art and new realism. Others may say it is an artistic greed, which pleases our senses and evokes sweetness by praising all the themes carried by these candies.
The large candy sculptures filled with sweetness is unforgettable
Lawrence Jenkel has been creating challenging sculptures. He uses his trademark "package twisting technology" to create sweets larger than life. The colors are bright and the sizes are different. Each of them is very beautiful. The exquisite details are full of fashion, smooth sculpture surface, bright color, full of sweet fragrance. There is a feeling that wants to peel them off and put them in mouth.
Large candy sculptures is a very bright and beautiful red candy. It is very huge and stands beside the building. It is very eye-catching, like the happiness, warmth and sweet taste given by heaven. The candy is wrapping in sugar paper, and the folds on both sides looks very vivid. And we can't help but want to touch the details of the sculpture. It also reminds us of the time when we infatuated with sweets and the innocent smile when we were young.
This fiberglass candy statue is elaborately made by the sculptors of our Arturban sculpture foundry. It is vivid and colorful. It painted with automobile paint, so that the color is not only bright and shiny, but also suitable for outdoor occasions for a long time. The candy sculptures also represent the sweetness and happiness. When holding the wedding ceremony, many candy sculptures will be as decorations. The colors seem to emit different fragrances, and the smile on the faces of the newly married couples have a happier flavor. It let us have a happy and relaxed mood.
Send us your requiremnts now, we will reply to your email within 24 hours