Brian Donnelly and street art
Kaws big statue is a famous art work of Brian Donnelly. Brian Donnelly known as kaws, is an American artist and designer. He is famous for designing limited edition toys and clothes. He is also a world-renowned artist, exhibited in international museums and galleries. His art is between art and global commerce.
Brian Donnelly was born in Jersey, New Jersey in 1974. He graduated from the New York Institute of visual arts with a bachelor's degree in illustration art. After graduating from university in 1996, Brian Donnelly worked as a freelance animator at Disney. He had the opportunity to paint the background and contributed to films such as 101 Dalmatians, Daria and Doug.
Kaws' works are emphasis on colors and lines, unique graphics, such as the repeated use of "X" on hands, nose, eyes and ears. It embezzle pop culture icons such as Mickey Mouse, Michelin, Smurfs, Snoopy and SpongeBob. His character is usually in a shy and / or weak posture, often covering his nose with his hands. In his paintings, kaws always deconstructs his appropriation of iconic figures into shapes that produce abstract paintings.
This doll is a Mickey Mouse with gloves, shorts and clown like shoes. For this well-known image of Mickey, kaws added his own unmistakable mark now – inflatable skull and "XX" eyes. Kaws' role is a reference to visual culture, showing his rich creativity and impressive ability to adapt to the world's famous pop culture idols, making them his own unique creation and a tribute to the style of today's society.
This sitting kaws sculpture is with exquisite and delicate paint throughout, projecting an extremely touching resonance in a ironic and teasing posture, and observing the dreams and aspirations contained in popular cultural images. Drawing on the shape of the anthropomorphic cartoon character Mickey Mouse, marked by bone shaped ears and "X" legs on both sides, as well as "X" shaped eyes, "sitting companion" seems to further strengthen the character's ironic pessimism, collapsing and curling up in despair. It looks soft and full like an inflatable toy, but what Disney cartoon conveys is not pure and brilliant vitality and pleasure, but existential depression and horror.
Kaws gives his "companions" an unexpected freedom to feel sadness, subvert the traditional image of the media, and reveal the sad soul hidden therein. The nihilistic and slightly morbid implication of the "X" eyes (usually representing death in cartoons) seems to be transformed into a posture here – into a handy mask, just covering your eyes with your hands.
In kaws' creation, dolls are an indispensable part. We often see the familiar cartoon characters in kaws' design elements. Kaws can always turn them into another look, full of childlike fun and a sense of humor. Kaws also wants to combine his childhood into his creation and present it to everyone in this way. Bring you a sense of fashion and a happy atmosphere.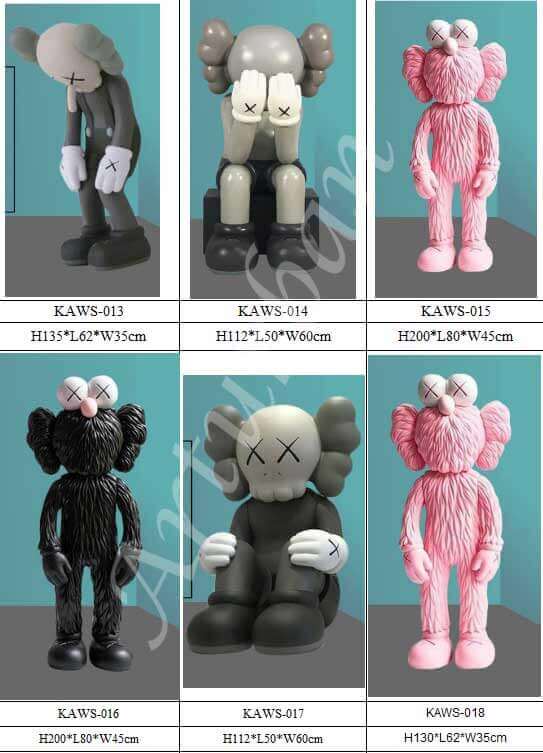 Send us your requirements now, we will reply to your email within 24 hours