Kaws creator Brian Donnelly
kaws bff statue is a pink kaws with black suit. Brian Donnelly, also known as kaws, is a New York artist who is famous for designing limited edition toys and clothing. He is also a world-renowned artist, exhibited in international museums and galleries. His art is between art and global commerce. Kaws has gone beyond the exclusive art market to occupy a more complex global market.
Born in New York, kaws brought his art directly to the streets. After studying illustration and working as a cartoon animator for popular TV programs such as Disney movies and Daria, kaws began his career with graffiti. In the 1990s, he marked his unique characters on buildings, billboards, bus stops and telephone booths, which are usually similar to iconic figures in pop culture, such as Mickey Mouse.
In kaws' creation, dolls are an indispensable part. We often see familiar cartoon characters in kaws' design elements, including characters in the Simpsons, Mickey Mouse, Michelin, Smurfs and SpongeBob. Kaws can always make them look different, full of childlike fun and a sense of humor. Kaws also wants to combine his childhood into his creation and present it to everyone in this way.
These toy sculptures created by kaws have welcomed by the world's art toy collection industry, so kaws began his career as a graffiti artist. The unique shape not only brings the color of pop art and street art, but also becomes the representative of people's life fashion trend.
Details of kaws bff statue
This kaws bff statue is very beautiful. It makes countless people have girlish hearts. This sculpture has a furry head, like a pink bear. Standing Kaws Statue has two protruding eyes and a pink nose on the top of its head, very distinctive. Wearing a black suit, white shirt and tie, looking very handsome. Pink shoes and gloves, hands on both sides of the body is very formal. It is in sharp contrast to the bright pink. And we can also see that the pink bone symbol with fluff is on its head. The "X" mark on the eyes, back of hands and shoes are all its classic signs.
This Kaws Statue is carefully made by our Arturban sculpture factory, which perfectly brings kaws' image to life. Through the sharp contrast of the colors, lines and shapes, it shows the cool doll sculpture with its own characteristics. We pay attention to details in the production of the sculpture. We show the vivid image of the sculpture, and the visual effect of the plush doll of the sculpture. Whether as an outdoor decoration or as an indoor decoration, it is a very fashionable and generous art sculpture. The combination of high-end fashion and street art will bring you to the preface of fashion.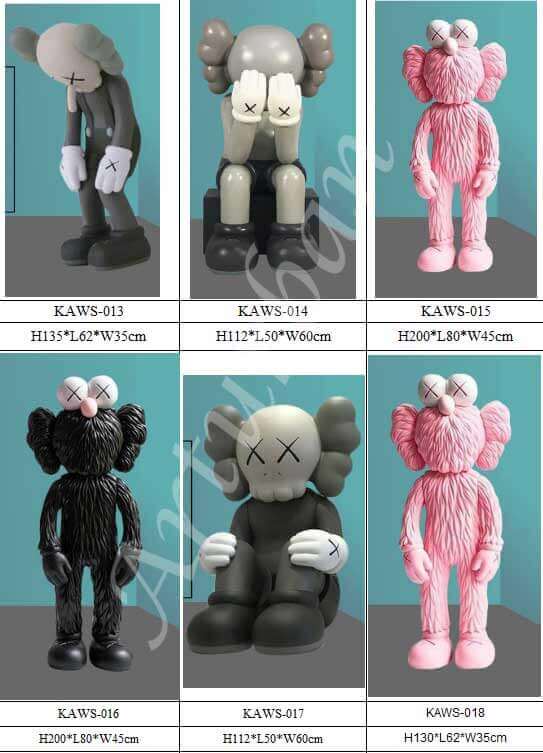 Send us your requirements now, we will reply to your email within 24 hours