Jeff Koons's rabbit sculpture
Jeff Koons balloon rabbit has been one of the classic works of art in the 20th century since its birth 36 years ago. This stainless steel sculpture is more than 3 feet high. It is cute and spectacular, and combines the unique gloss of minimalism and the fun of cartoon images. The appearance of the sculpture is simple and cold, but it also shows a visual language of childhood. This rabbit without facial features looks mysterious and unpredictable, but its overall shape is charming.
This silver rabbit without facial features can reflect various artistic inspirations, it is cold and distant. It is the embodiment of many contradictions – light and heavy, hard and soft – which gives it the most powerful power. Rabbit not only provokes the art world, but also embraces the attitude and aesthetic outlook of the art world.
Rabbit wants to tell the world that life is beautiful, all tastes are acceptable, and we should accept ourselves. The work is shining like a gorgeous and futuristic idol. It is not only a mirror for the prince, a mirror for the public to reflect our appearance and integrate us into the different scenes displayed by its mirror. So all of us became part of this work.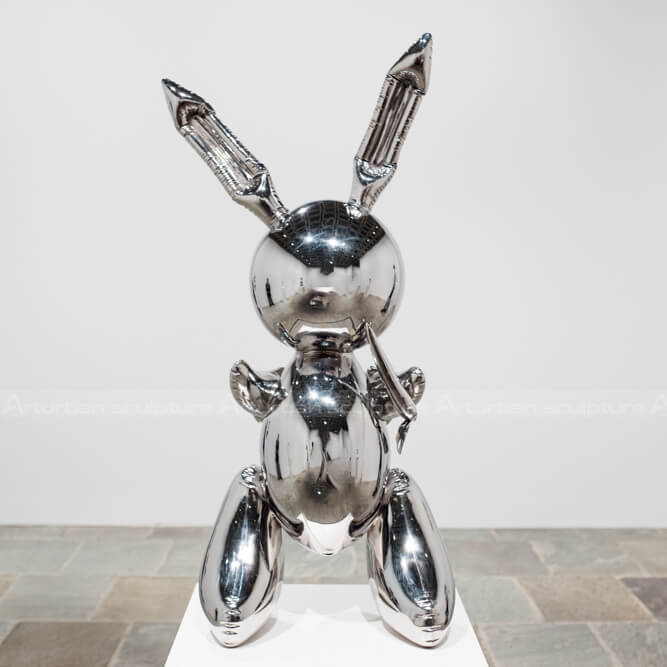 Details of rabbit sculpture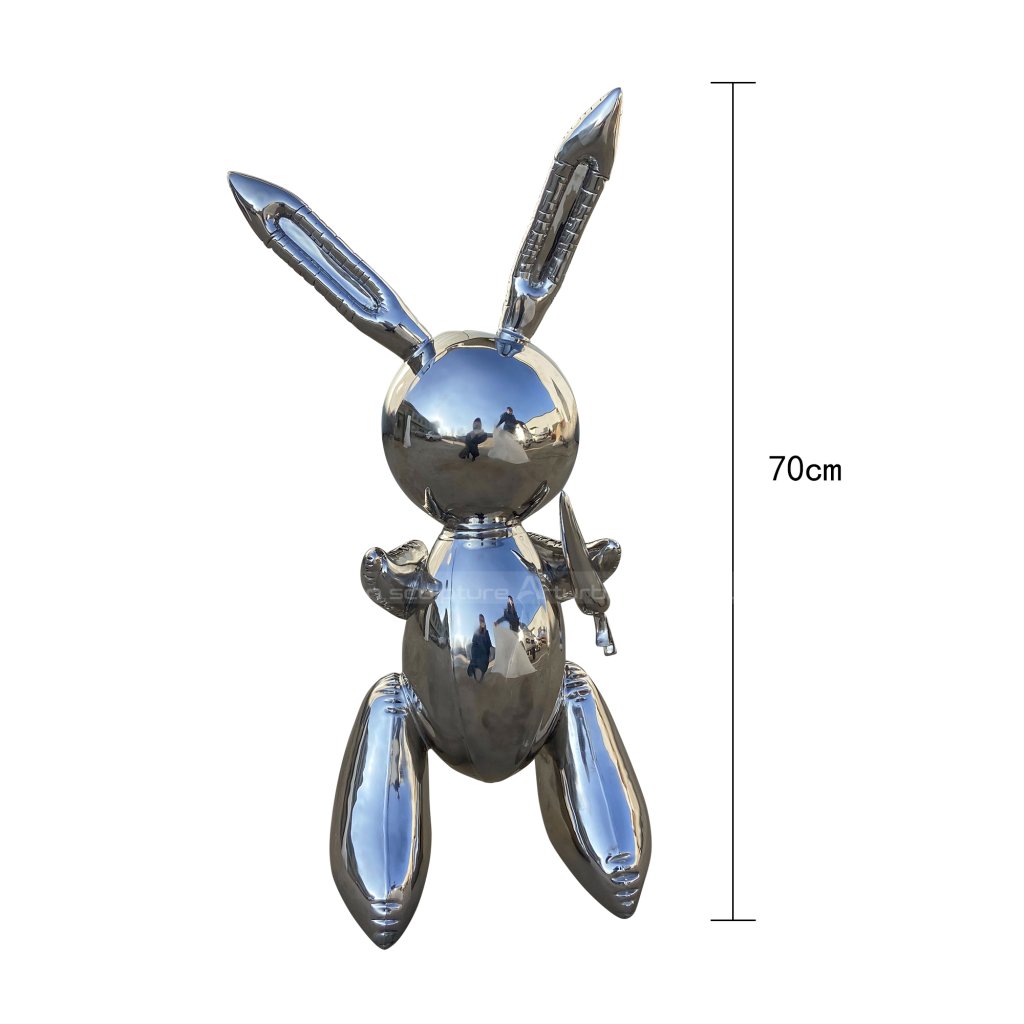 Sculptor Jeff Koons said: I think the reason for the success of the rabbit is that the expressive force of the steel material completely conforms to my original intention. This material is shiny and charming, making the audience feel rich when appreciating the works. This effect is similar to the gold and silver leaf patterns in the churches in the Baroque and Rococo periods. The effect of rabbits is the same. In addition, it reflects light like the moon. It seems indifferent, but in fact it is full of interest in you. "
The replica of Jeff Koons balloon rabbit is very popular. We have made this humorous and interesting art sculpture for many customers. This replica sculpture is a sculpture made by our Arturban sculpture foundry. This silver rabbit without facial features reflects the inspiration of various arts. It holds a carrot in its hand and is covered with its own silver shiny face, like a mirror reflecting the appearance of each of us. We saw the signs of balloon expansion in its limbs, as if it were made of real balloons. Ou factory high polish it, and the smooth shape of its mirror can reflect the surrounding environment, giving people a unique visual effect.
We have a strong interest in Jeff Koons stainless steel sculpture, so we can perfectly display the sculpture works after careful study. Our sculptures are carefully cast with stainless steel. After welding and mirror polishing technology, they are very shiny and never fade. They are very fashionable and artistic sculptures both outdoors and indoors.
Send us your requirements now, we will reply to your email within 24 hours