Elvis Presley, a new music world — rock music
This is a bust of elvis presley. Cat king is the nickname of Elvis Presley. Together with Bob Dylan and the Beatles, Elvis Presley is the greatest immortal symbol in the history of rock music. His music transcends the boundaries of race and culture, integrates country music, blues music and mountain rock music, and forms a unique style with distinct personality. It strongly shocked the pop music world at that time and made rock music sweep the world like a whirlwind. In that era when rock music was not yet popular, Elvis Presley alone cut through the thorn. He brought rock music to the world music stage, and made music reach a new era.
Elvis Presley has a very strong stage performance ability. He played the word "rock" incisively and vividly. For example, on the scene of hound dog, he twisted his hips very classically. You should know that before that, pop music, whether singing or performing, was very prim. Therefore, Elvis Presley's wild and rough is an innovation.
Elvis Presley applied his passionate and rhythmic singing method to the black blues and country music, and added fascinating physical performances. Elvis Presley defined this new style of music as rock music. His exaggerated live performance style and crotch twisting movement directly reflect the characteristics of "rock and roll", which has brought American rock and roll music to the peak.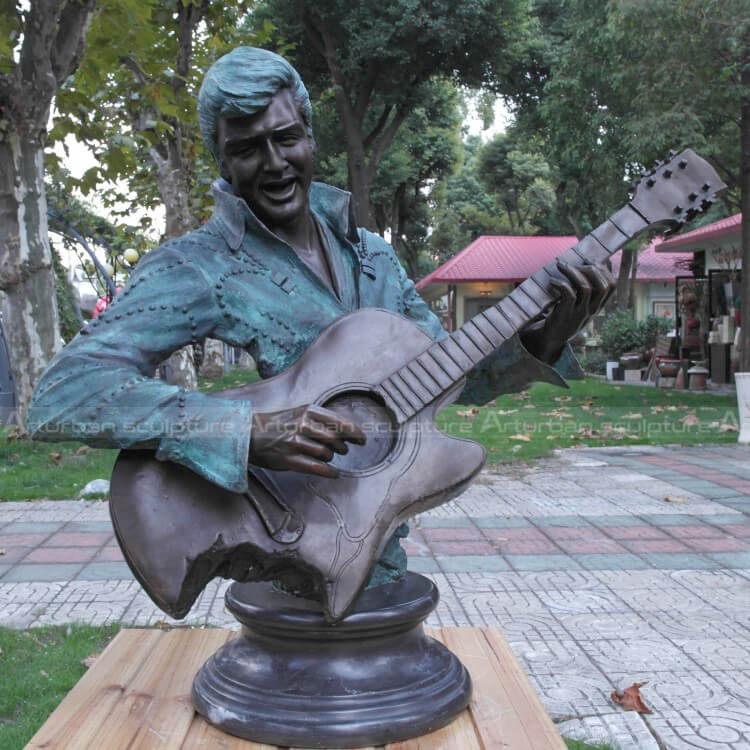 bust of elvis presley action details
singing happy music and playing the beautiful guitar. His classic hairstyle, wearing his most famous suit, white studded Hawaiian jumpsuit, has a very high stand collar and a deep V-shaped design to the chest, which is full of fashion sense and continues to this day. This dress has profoundly affected the fashion and music industry, and make Elvis Presley's status as a sexy male god.
This Elvis Presley sculpture is with copper green as clothes and hair. The bronze skin and the defective guitar are all commemorative of him. This classic bust of elvis presley is not only the favorite of musicians, but also a meaningful decorative sculpture in gardens, squares, museums and other places. The unique sculpture makes people deeply impressed, and the characteristics of Elvis Presley's rock music can be felt from a close distance.
Elvis Presley's story is very inspirational, from an ordinary truck driver to a global superstar! It is very inspiring. In his short life, Elvis Presley left the world unforgettable classic songs and shocking live performances. His handsome image and rebellious style still affect generations of musicians and American pop culture after so many years.