Statue of tulip bouquet
Bouquet of tulips statue is very beautiful. At the invitation of former U.S. ambassador to France Jane D. Hartley, Jeff Koons released the design concept on November 21, 2016, the 2015 anniversary of the terrorist attack in Paris. An 11 meter high sculpture holding 11 colorful tulips (the 12th symbolizes lost life), intended to imitate the goddess of liberty to lift her torch, and tulips represent unity, healing and optimism for the future. The artist said his aim was to help Parisians overcome the tragedy of the attack on the city. At the press conference, Anne Hidalgo, mayor of Paris, said that the works of one of the most famous modern artists in the United States "can witness the irreplaceable close friendship between our capital and the United States".
Jeff Koons believes that the image of flowers is always related to optimism, rebirth. It is the vitality of nature and the cycle of life. It is a symbol of life moving forward. At the same time, the shape of the "tulip bouquet" hand is also a simulation of the New York Statue of liberty holding the torch, telling the Centennial friendship between the United States and France.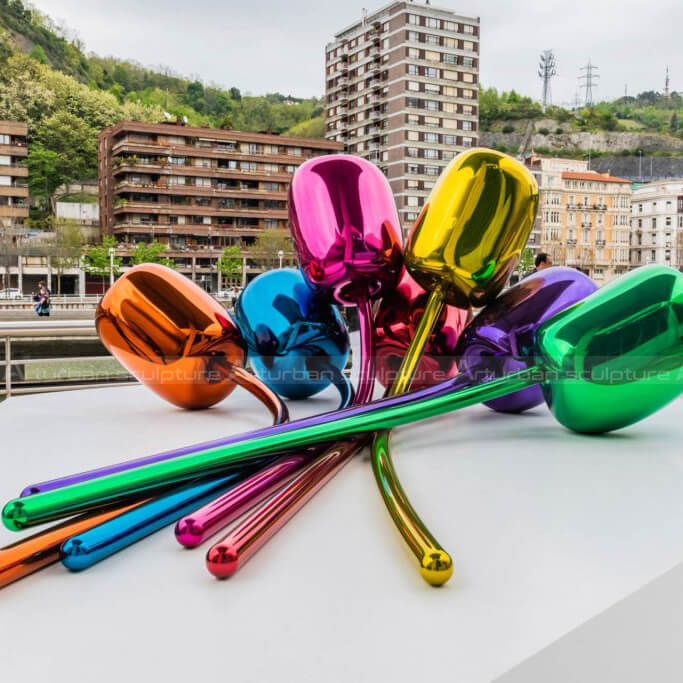 Flowers replaced doves as a symbol of peace, which was influenced by Picasso's printmaking "bouquet of peace" in 1958. The bouquet of peace depicts the owners holding the bouquet in full bloom presented it to the other. It is with the meaning of reconciliation and renewed friendship.
Details of Tulip Bouquet
"Tulip bouquet" not only represents people's good wishes, but also its beautiful shape and bright colors loved by many people.
This bouquet of tulips statue was carefully made by our Arturban sculpture foundry for our customers and used as a garden decoration. Stainless steel has a light and smooth texture, and the naturally curved bouquet details and balloon like effect make the sculpture full of fashionable and modern effects. The brightly electroplated surface is like a mirror with different colors, which brings us very shiny visual effects and is full of pop art effects. This bouquet of tulips statue looks simple, ingenious, exquisite and extraordinary everywhere. When placed outdoors, the gorgeous colors will add an impressive effect of fashion and modern to the surrounding environment.
Moreover, tulips also represent positive and optimistic emotions, the vitality of nature and the value of life. Therefore, its existence is also people's encouragement to themselves and their hope for life. When you give it to your friends and work partners, it also represents deep friendship and emotion.
Send us your requirements now, we will reply to your email within 24 hours