Jeff Koons used the most exquisite display technology, and through the cooperation with highly skilled technicians, traditional craftsmen, and physicists, the daily consumer goods have been elevated to the spiritual realm. In his hands, the most common things will transcend its common and vulgar levels and become real iconic things, such as his work "Rabbit", which is nicknamed "Bronchis Bunny". At first it was just an inflatable plastic toy bought from a store. Koons bought it, filled it with air, and then cast it with a highly polished stainless steel replica. It has wrinkled ears like an inflatable toy, a spherical head, and a bulging tail, but its face is blank. This sculptural mirror-like surface immerses the viewer in the icy reflections, no matter from which perspective, although it looks like a light, flashing Moore balloon, it is actually hard and heavy.
In addition to luxury, wealth, and spirit, Bunny claims that "to me, Bunny has multiple meanings. It symbolizes Playboy, Dream, and Revival." Koons uses an old-fashioned idea , Made a rabbit eating carrots. "It also symbolizes that a speaker, like a politician, is making a declaration. It is also a masturbator, putting a carrot near his mouth." Koons eagerly chose rabbits not just for his sexual impulses Ambiguous suggestion, while also acknowledging the existence of child pornography in this society, it is this kind of ambiguous that has attracted the audience's love.
For this balloon rabbit sculpture is ordered by one of our American customer, our customer want to add much details. Such as ripples, seams, and nozzle on back of head.
It is very difficult to make ripples and seam, we made 3D drawing for our customer firstly, the 3D drawing can be modified until our customers' satisfaction.
Our artist spend a lot of energy to finish this balloon rabbit sculpture, because the balloon rabbit sculpture is 100% hand made, the ripples are very difficult to make.
After receiving the balloon rabbit sculpture, our customer is very pleased with the quality. Here is his feedback.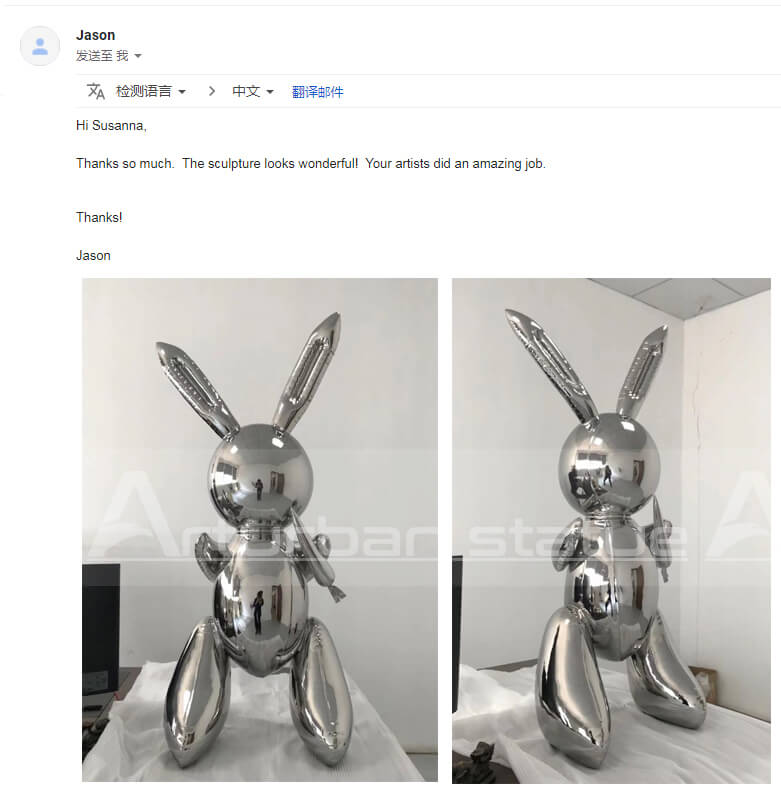 Send us your requiremnts now, we will reply to your email within 24 hours