1.Introduction of woman head statue
The woman head statue presents a thoughtful female figure. Sculptor Troy Williams combined timeless and contemporary beauty with
exquisite craftsmanship to create an impressive artwork.
The woman's head meticulously depicted, and her silhouette filled with a contrast between softness and strength. Her face was
with delicate expressions, as if contemplating various problems and challenges in life. Her eyes were closed, as if she could discern the
essence of the world.
The decorative function of this sculpture is to evoke exploration of people's inner world and deep thinking. It reminds viewers
to stop and reflect on important issues in life, providing them with an opportunity to have a conversation with themselves. The bust sculpture
can be placed in various places for decoration. They are suitable for placement in indoor spaces such as living rooms, study rooms, or offices.
These sculptures can add art and elegance to the indoor environment, bringing a unique atmosphere to living or working spaces. Secondly,
bust sculptures are also commonly used for outdoor landscape decoration. They can be placed in gardens, courtyards, or terraces, complementing
nature.
The advantage of making bust sculptures lies in the durability and diversity of the bronze material itself. Bronze is not easily corroded, so it
can maintain a stable appearance for a long time. In addition, artists can use bronze materials to achieve various complex carvings and details,
making sculptures more exquisite and unique. Therefore, bronze bust sculptures are suitable for both indoor and outdoor decoration, known
for their exquisite craftsmanship and long-lasting quality, which can add color to various places.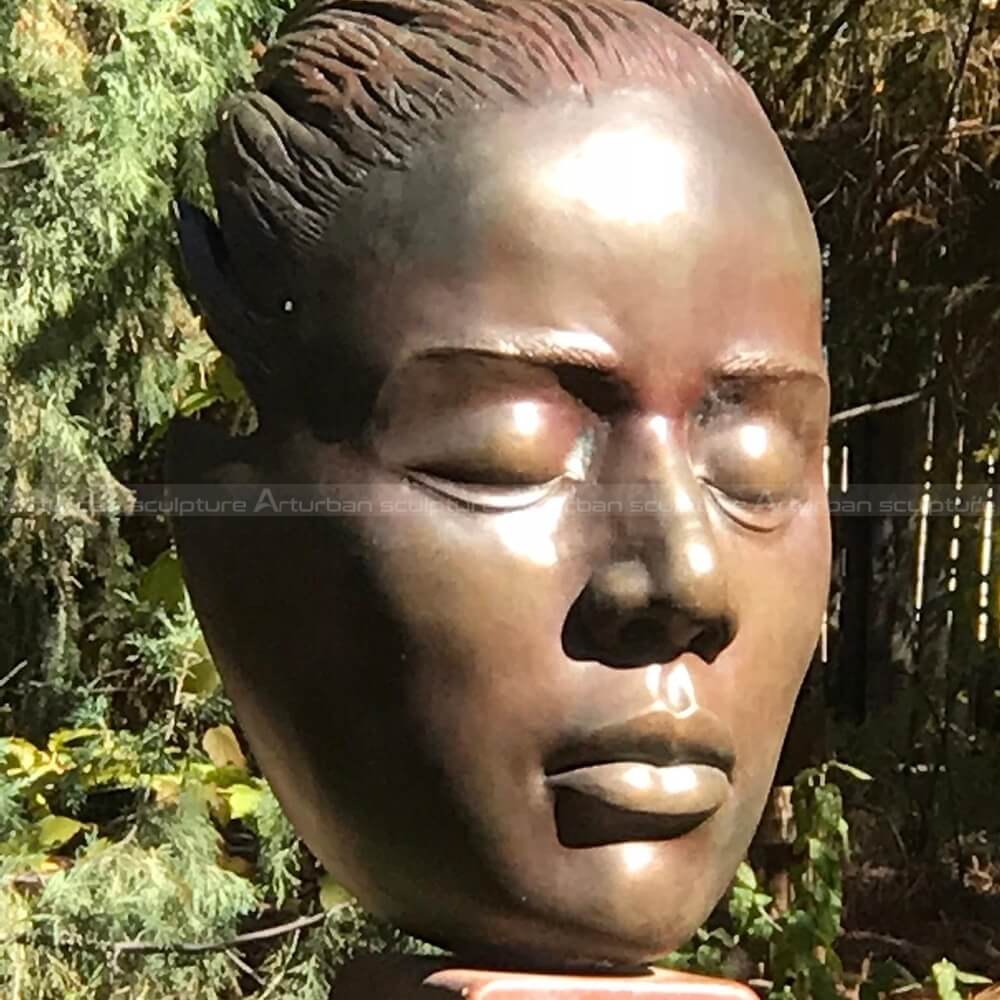 2. Production Process of woman head statue
1. Confirming the details drawing/ 3D mold/ Pictures with clients.
2. Making clay mold according to drawing/ client's photos/ 3D mold.
3. Lost-Wax casting bronze/brass statues.
4. Welding and Chasing.
5. Patina and wax surface, take all different views pictures/ videos, show to clients.
6. Packing into wooden cases after clients satisfied with sculptures.
Send us your requirements now, we will reply to your email within 24 hours