1.Introduction of stainless steel art sculptures
This is a stainless steel art sculptures. As a modern and creative art form, stainless steel sculpture has
become one of the most popular decorations in public and private spaces. This stainless steel sculptures
is composed with three oval stainless steel rings, arranged from large to small, from low to high.
The design of this Modern Stainless Steel Sculpture is simple and beautiful, leaving a deep impression.
Each oval ring is carefully carving, and the shiny metal surface reflects the light of the environment, creating
a very eye-catching effect. The size and height of the three rings echo each other, forming a beautiful curve,
which increases the visual level of the sculpture.
The use of stainless steel sculpture is very extensive. They can be in public places, such as parks, squares,
shopping malls and other spaces, which increases the artistic atmosphere and cultural value of these places.
In private places, such as homes, offices and private gardens, stainless steel sculptures can become vivid and
interesting decorations, highlighting personal taste and style. Stainless steel sculptures can also be used as
special souvenirs to commemorate a special moment or event.
Our factory customized stainless steel sculpture has many advantages. We use high-quality stainless steel materials
to ensure that the sculpture is durable and not easily damaged. Our sculptors have rich experience and technology,
and can create unique designs according to customer needs. We use the latest technology and equipment to ensure
that each sculpture has high quality and exquisite craftsmanship. Whether indoor or outdoor, our statues can bring
beautiful visual effects and add unique charm to your place.
2. Project cases of stainless steel sculpture
3.Production Process of stainless steel art sculptures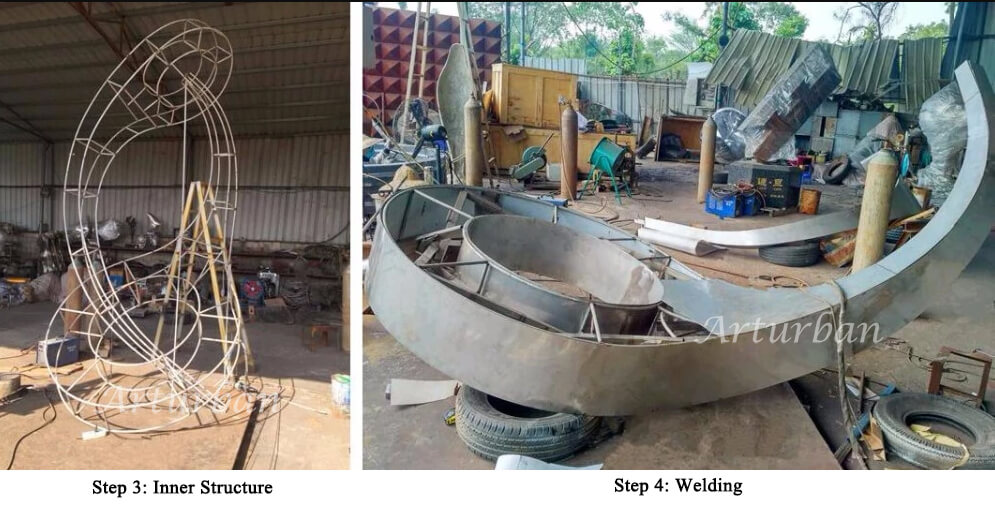 Send us your requirements now, we will reply to your email within 24 hours