1.Introduction of sculpture thomas lerooy
This is the sculpture thomas lerooy. Thomas Lerooy is a renowned sculptor whose works include a striking sculpture
titled 'Not Having Enough Brain to Survive'. This sculpture is characterized by a large head, with an exceptionally large
head and a relatively small body.
The appearance of this big head is very eye-catching. The huge head and relatively small body form a sharp contrast, giving
a disharmonious yet impressive visual impact. This exaggerated image creates a unique visual effect that triggers viewers to
think about human existence and consciousness.
This sculpture has a decorative effect. It can become a unique decoration for indoor or outdoor spaces, attracting people's
attention. Its unique image and sharp contrast make it a unique artwork, adding a unique personality and artistic
atmosphere to the environment.
The advantage of making this Nude Man Statue lies in its creativity and technical implementation. Sculpture creation
showcases unique thinking and artistic expression abilities. By utilizing bronze materials and sculpture techniques, we
have successfully transformed creativity into reality and created this unique image of a big head. The durability and plasticity
of bronze materials enable him to accurately shape the details of his head and body, expressing his thoughts on human
existence and cognition.
Overall, sculpture showcases the artist's unique creative style and ideological connotation through the image of the big
head figure, as well as its decorative and production advantages in appearance. This sculpture triggers viewers to think
about human identity and cognition, and plays a unique decorative role in space.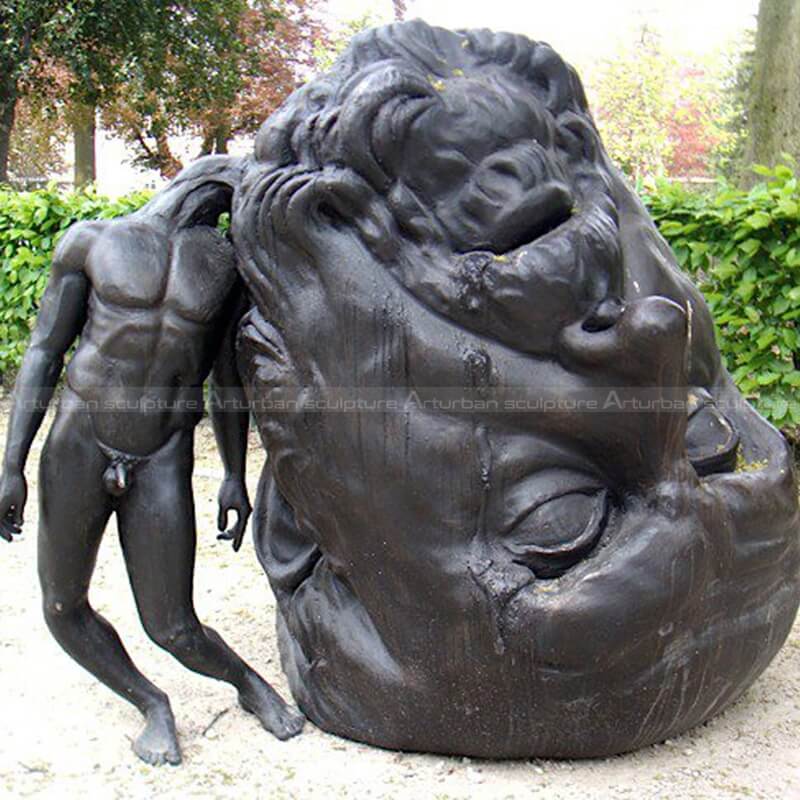 2. Production process of sculpture thomas lerooy
| | |
| --- | --- |
| Step1 Design   Communication: |  You supply us with several photographs with dimensions. |
|  Step 2: Project Consultation: |  Our team will make a production plan, according to your design, budget,   delivery time,  or any other service. Our final aim is to supply high quality and   cost-saving sculpture efficiently. |
|  Step 3: Confirm Mold |  We will make 1:1 clay or 3D mold,when finished clay mold,i will take photos   for your reference. The clay mold can modify any details till you're satisfied with it |
|  Step 4: Casting |  We will use advanced lost wax casting technology to cast bronze or brass |
|  Step 5: Repair, welding &Chasing |  We will repair the hole of statue, then welding and chasing, which is the key   step to make fine high quality statue. |
|  Step 6: Patina and wax surface | We will paint the color as the image the customer sent, then make wax surface. When finished statue, also i will take photos for your reference. After you satisfied with all, i will arrange packing and shipment |
|  Step 7: Package |  Strong wooden crate with waterproof and shockproof foam inside |
Send us your requiremnts now, we will reply to your email within 24 hours