1.Introduction of thomas j price sculpture
This is the thomas j price sculpture named reaching out. It is a bronze sculpture created by artist Thomas J Price, showcasing
the image of a young anonymous woman looking at her phone. Price said that this work is his first complete female character image,
about "balancing the experience of isolation and connection, while acknowledging the different ways technology mediates our lives.
This black British woman is portrayed vividly, gazing intently at her phone screen, demonstrating a close connection with the digital
world. Thomas J Price created this woman in a casual but immersive posture, in stark contrast to those large white male historical
sculptures and showcasing the value of 'everyday'.
The bronze material endows sculpture with sturdy and long-lasting characteristics, enabling it to withstand the test of time and
showcase its artistic value in different environments. It can be placed in public spaces, art galleries, or private collections, providing
viewers with opportunities for artistic enjoyment and reflection.
This Bronze Woman Sculpture, through the depiction of contemporary social phenomena and the exquisite application of
craftsmanship, brings the viewer into a thinking space about technology, interaction, and personal relationships. It is not only a
work of art, but also a reflection and presentation of our daily lives.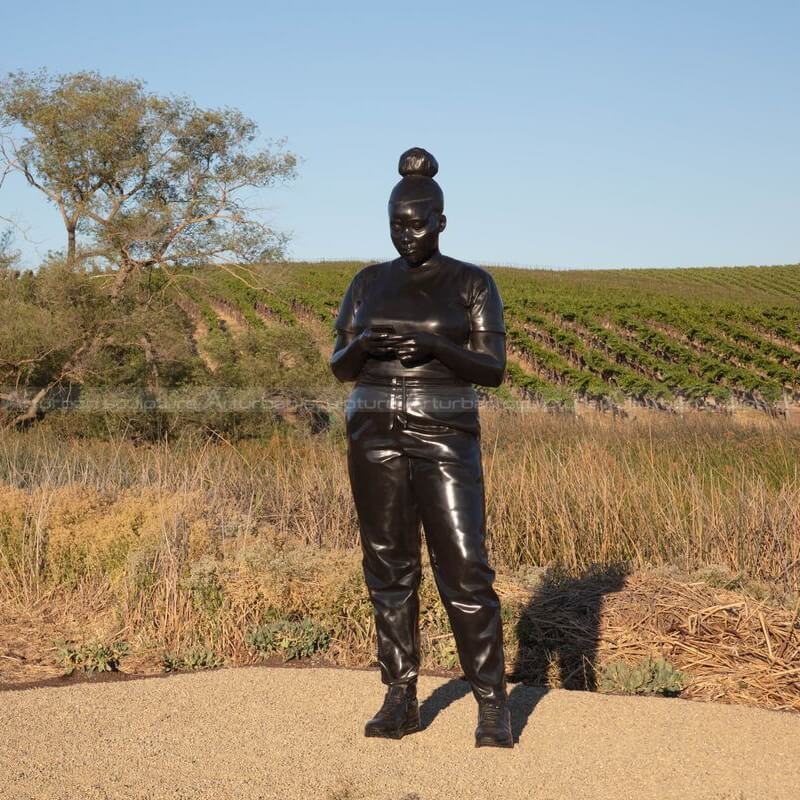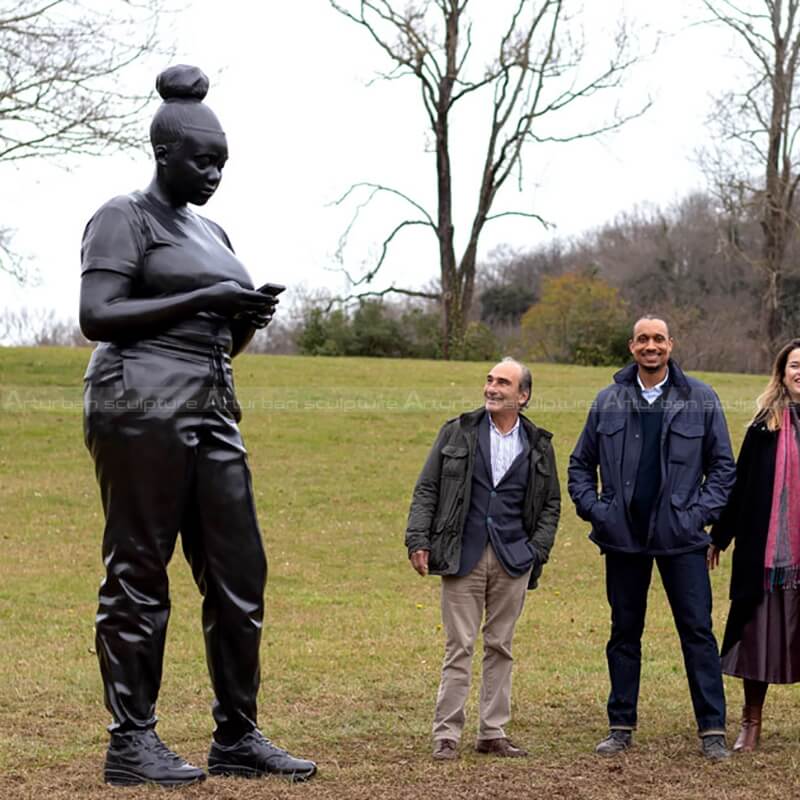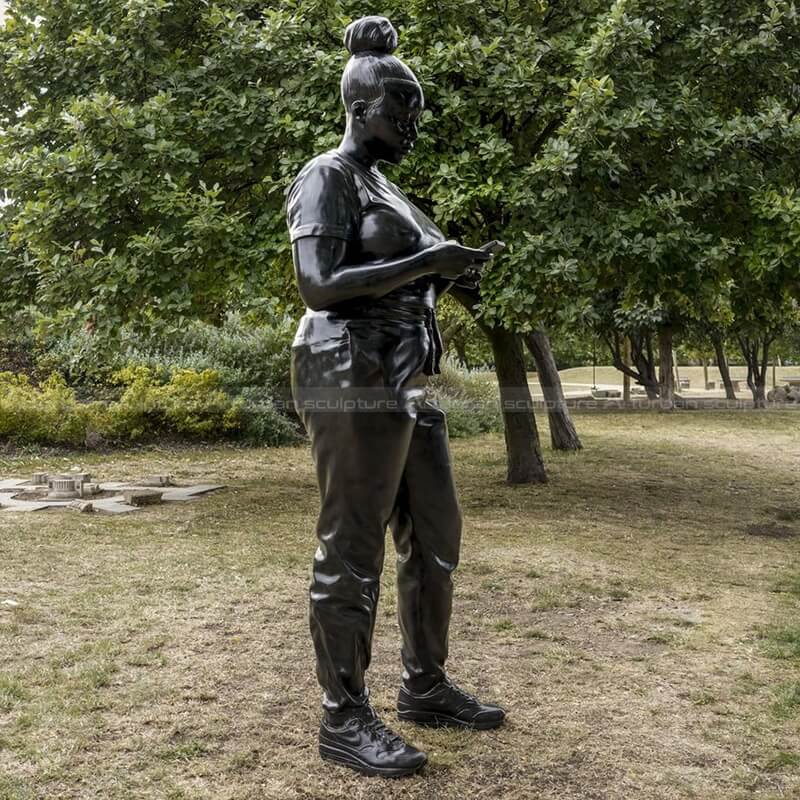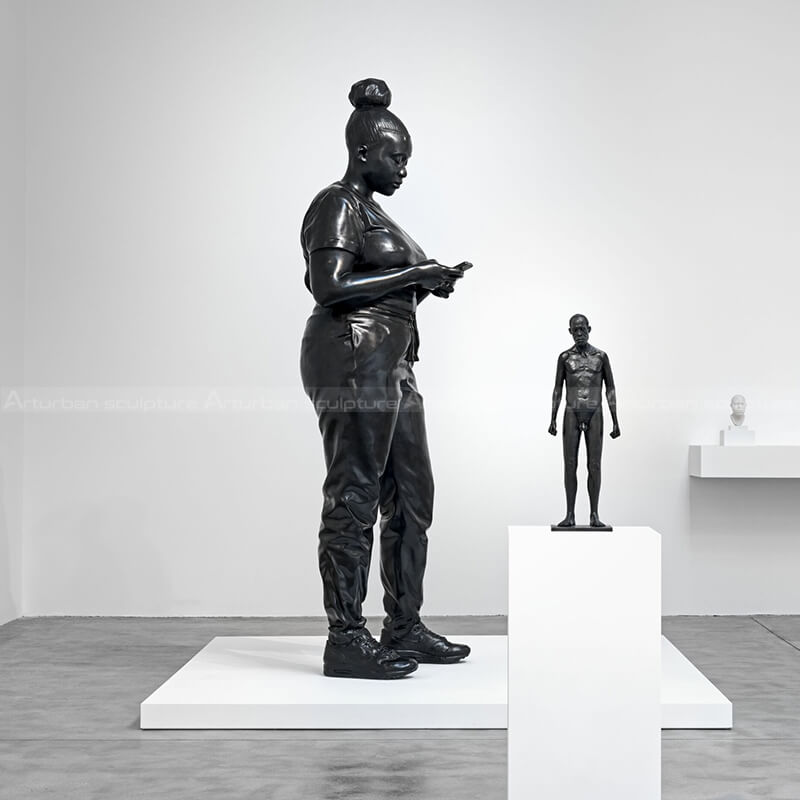 2. Production process of thomas j price sculpture
| | |
| --- | --- |
| Step1 Design   Communication: |  You supply us with several photographs with dimensions. |
|  Step 2: Project Consultation: |  Our team will make a production plan, according to your design, budget,   delivery time,  or any other service. Our final aim is to supply high quality and   cost-saving sculpture efficiently. |
|  Step 3: Confirm Mold |  We will make 1:1 clay or 3D mold,when finished clay mold,i will take photos   for your reference. The clay mold can modify any details till you're satisfied with it |
|  Step 4: Casting |  We will use advanced lost wax casting technology to cast bronze or brass |
|  Step 5: Repair, welding &Chasing |  We will repair the hole of statue, then welding and chasing, which is the key   step to make fine high quality statue. |
|  Step 6: Patina and wax surface | We will paint the color as the image the customer sent, then make wax surface. When finished statue, also i will take photos for your reference. After you satisfied with all, i will arrange packing and shipment |
|  Step 7: Package |  Strong wooden crate with waterproof and shockproof foam inside |
Send us your requiremnts now, we will reply to your email within 24 hours