1.Introduction of outdoor fish sculpture
The stainless steel outdoor fish sculpture is a modern art, which is composed of stainless steel rings
and swimming fish sculptures. The schools of fish cross through the stainless steel circle, giving people
a dynamic feeling of flowing and swimming. This sculpture shows the unique style of modern art,
combining natural and artificial elements. It is not only a work of art, but also a way to express nature
and beauty. It can make people more feel the power of life and nature, and bring a happy mood.
The outdoor Fish Art Sculpture are suitable for decoration indoors or outdoors. They can be placed in
gardens, parks, shopping malls and other places to add beautiful scenery to these places. At home, it
can be placed in the living room, study, courtyard and other places to add the flavor of modern art to
the home environment. Because the stainless steel material has the characteristics of corrosion resistance
and durability, this sculpture is also very suitable for placing in the humid environment such as the seaside
or the lakeside. The advantages of stainless steel such as durability, easy cleaning and maintenance also
make it an ideal decoration.
2. Project cases of stainless steel sculpture
3.Production Process of outdoor fish sculpture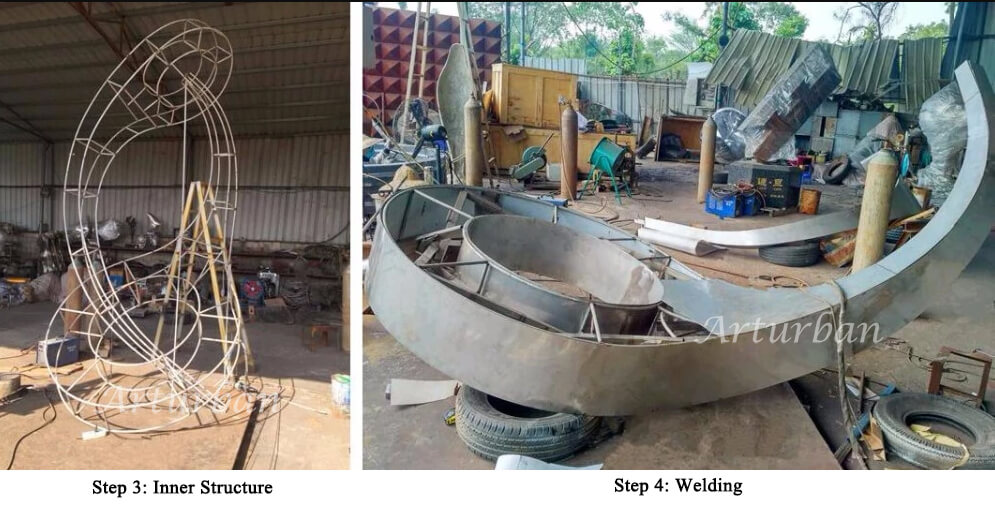 Send us your requirements now, we will reply to your email within 24 hours