1.Introduction of octopus lawn sculpture
The bronze octopus lawn sculpture is a lifelike artwork. The tentacles of octopuses are delicate and powerful, and each suction cup
is carved very lifelike, as if it can be extended at any time. Its eyes are deep and bright, as if gazing into the distance. The octopus's
body is twisted and elegant, displaying a flexible posture, as if ready to face the challenges of the ocean at any time. The exquisite
sculpture craftsmanship makes the appearance of octopuses lifelike and breathtaking. This sculpture not only highly reproduces
the characteristics of octopuses in form, but also showcases the sculptor's superb skills in details, giving people a feeling of standing
in the underwater world.
In terms of decoration, octopus sculptures can bring a unique artistic atmosphere to indoor and outdoor spaces. It can be placed
in gardens, courtyards, by pools, or on indoor decorative shelves, becoming a highlight of the space. Whether it is a modern style
courtyard or an ocean themed interior decoration, this sculpture can blend harmoniously with the environment, adding a unique
charm to the space.
In terms of production, bronze material has excellent corrosion resistance and durability, suitable for long-term outdoor environments.
At the same time, bronze material is also very suitable for carving and shaping, which can present a meticulous sculpture effect.
Producers can adjust the posture and expression of octopuses as needed to create various bronze octopus sculptures in different styles.
Overall, octopus lawn sculpture has become a unique choice for indoor and outdoor decoration due to its vivid appearance, diverse
decorative effects, and production advantages. It is both a work of art and an embellishment of space, showcasing unique charm and
taste both as a private collection and as a public landscape.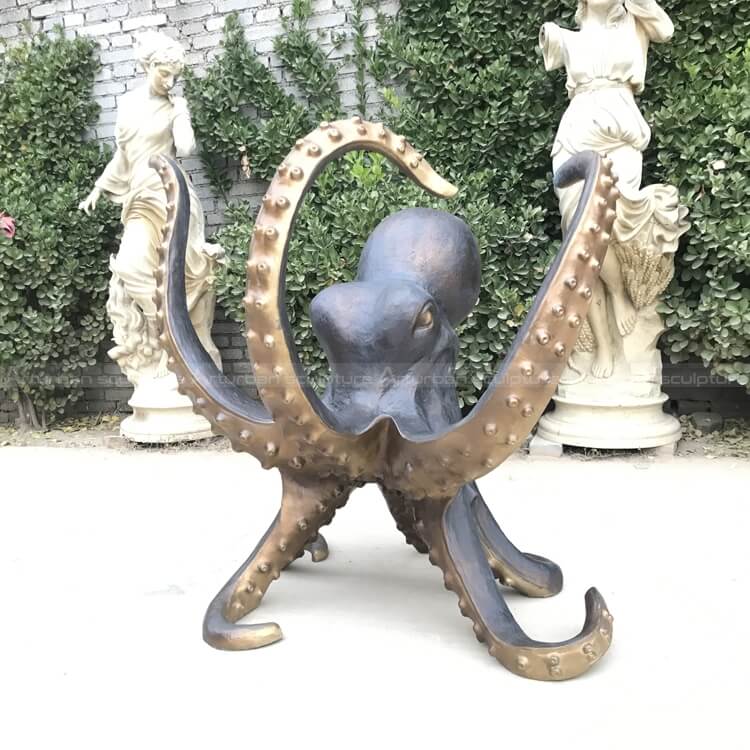 2.Production Process of crow wall decor
1. Confirming the details drawing/ 3D mold/ Pictures with clients.
2. Making clay mold according to drawing/ client's photos/ 3D mold.
3. Lost-Wax casting bronze/brass statues.
4. Welding and Chasing.
5. Patina and wax surfance, take all different views pictures/ videos, show to clients.
6. Packing into wooden cases after clients satisfied with sculptures.
Send us your requirements now, we will reply to your email within 24 hours