1.Introduction of monkey garden statue
Monkey garden statue is life size. Monkeys are the animals most similar to human beings. The size of monkeys is from the smallest marmot, which lives in the forest of the Amazon River Basin in South America, with a length of 10-12cm and a weight of 80-100g, to the male mandrill produced in West Africa, which is nearly 1m high and weighs 35kg, and its ears are especially large. Some features of the monkey species are similar. Its face is convex, but there is no hair. It has hair around its face, surrounds its face, and has brown hair on its body and limbs. Its forelimbs are like human hands and can pick up all kinds of objects. It often stretches out its broad palm to wave to pedestrians, or makes all kinds of funny moves, which are loved by everyone.
We have rich experience in making all kinds of vivid animal sculptures. We often create with bronze materials. You will deeply impressed by the exquisite hair on the surface, funny movements, strong muscles, limbs and vivid images. We not only have a professional sculpture team, but also talented sculpture designers. The statue can not only show the vivid image, but also combine the characteristics of culture and art to make every piece of our sculpture exist like an art. We can also customize it according to your photos and drawings. You can contact us at any time to formulate a detailed plan for you to let you know more about sculpture.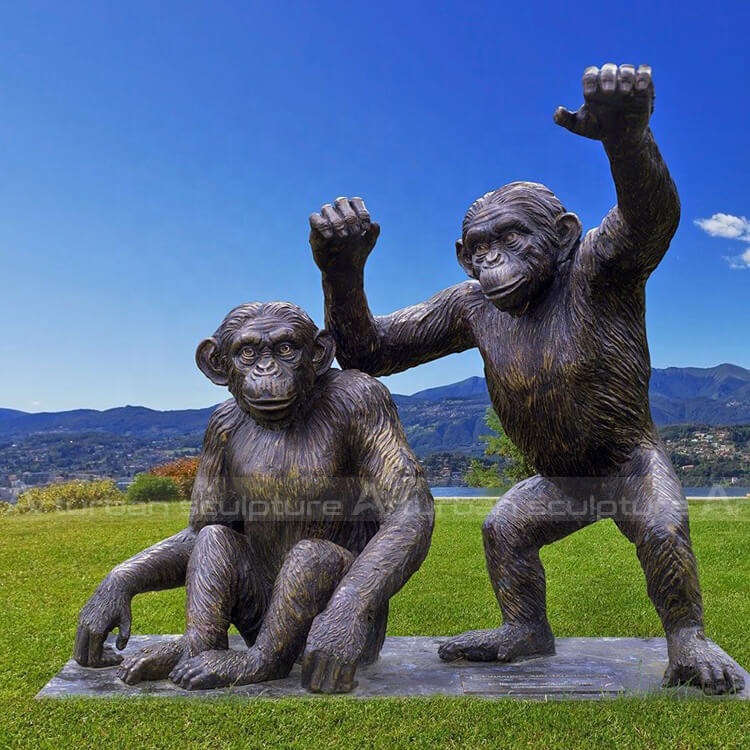 2.Production Process of monkey garden statue
1. Confirming the details drawing/ 3D mold/ Pictures with clients.
2. Making clay mold according to drawing/ client's photos/ 3D mold.
3. Lost-Wax casting bronze/brass statues.
4. Welding and Chasing.
5. Patina and wax surfance, take all different views pictures/ videos, show to clients.
6. Packing into wooden cases after clients are satisfied with sculptures.
Send us your requirements now, we will reply to your email within 24 hours