1.Introduction of 3 Wise Monkey Garden Statues
3 Wise Monkey Garden Statues is thetalking a famous story of the three wise monkeys. They sat on the branches and covered their eyes, ears and mouths with their hands separately , depicting each smart character: not listening to evil, not talking about evil and not looking at evil. The peculiar shape of this sculpture is eye-catching, and its moral is thought-provoking. It is also a wise attitude of the wise man. Three Monkeys Statue can be used not only as the decoration of gardens, courtyards, squares and other places, but also as the decoration of indoor, tables to keep people alert all the time.
In sculpture production, we have our own team, which can not depict the image of the sculpture incisively and vividly, and our designers are good at designing the sculpture into different styles, so that you can display it on different occasions and integrate with the surrounding. So we have a variety of sculptures for you to choose from, and we can also design your own sculptures for you.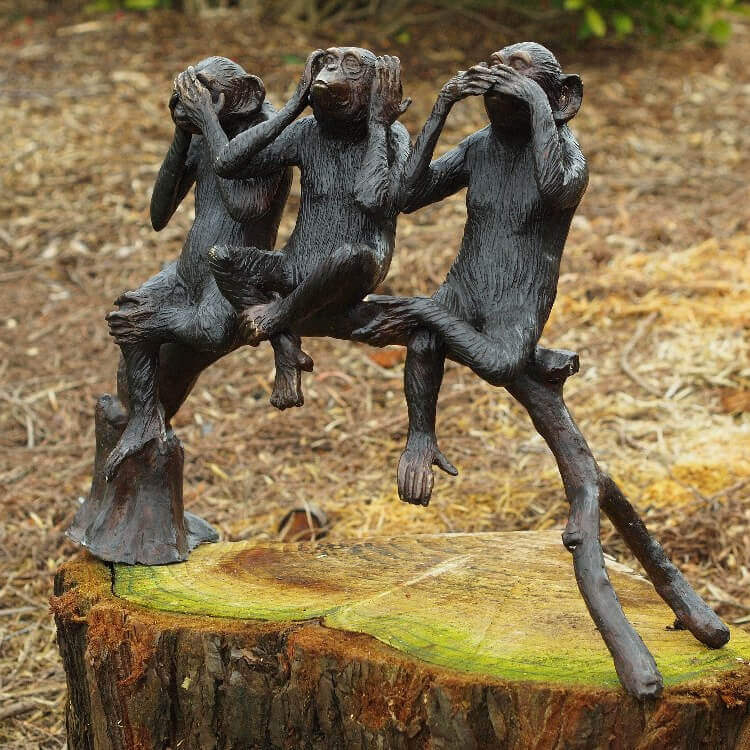 2.Production Process of 3 wise monkey garden statues
1. Confirming the details drawing/ 3D mold/ Pictures with clients.
2. Making clay mold according to drawing/ client's photos/ 3D mold.
3. Lost-Wax casting bronze/brass statues.
4. Welding and Chasing.
5. Patina and wax surfance, take all different views pictures/ videos, show to clients.
6. Packing into wooden cases after clients are satisfied with sculptures.
Send us your requirements now, we will reply to your email within 24 hours