1.Introduction of minion statue for sale
This is minion statue for sale. It is highly loved for its cute and unique appearance. They are usually presented as small, chubby figures,
wearing blue jumpsuit Cargo pants and yellow blouses, wearing round glasses, and their bodies are bright yellow. Their eyes are large
and bright, with charming eyes and diverse expressions, ranging from mischievous expressions to gentle and charming smiles. Their
arms are short and thick, and their palms are large and round, as if ready to make funny movements at any time. The entire sculpture
presents a vibrant image, bringing a sense of joy and joy to people. Whether standing, sitting, or making various funny movements, the
minion statue exudes vitality and childlike charm, becoming a favorite decoration among people.
Life Size Minion Statue can be placed in homes, offices or business places to add vitality and interest to the space. The sculpture of the
minion is not only enjoyable, but also attracts people's attention and appreciation. They have become the focus of various occasions,
adding highlights and unique personalities to the space. Whether as a tabletop decoration, garden decoration, or gift giving, the minion
sculpture can bring a relaxed and joyful atmosphere. They can not only embellish the home, but also create an affinity and friendly
atmosphere for commercial venues. The sculpture of the Little Yellow Man has become a popular decorative choice due to its unique
charm and decorative effects.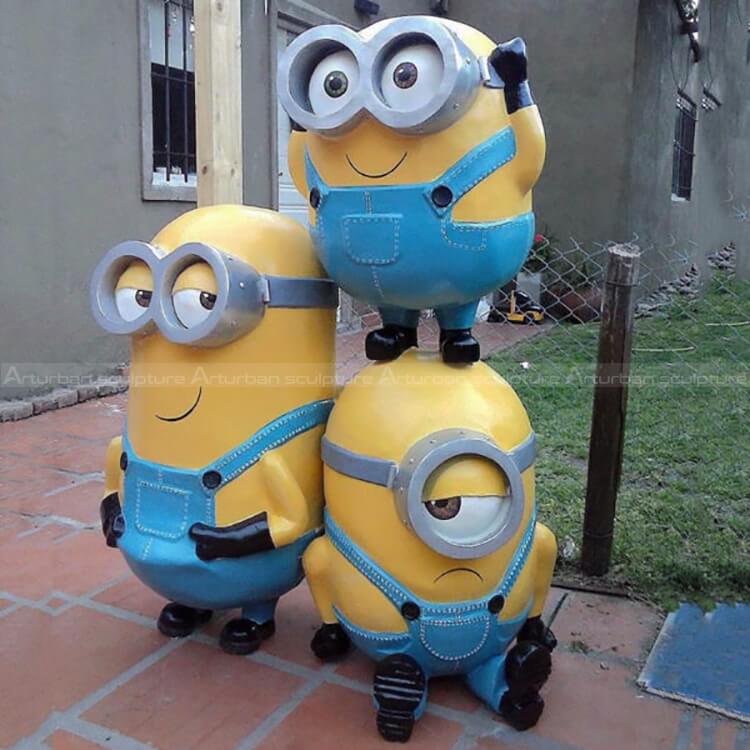 2. Production process of minion statue for sale
Step1 Design Communication:  You supply us with several pictures and size you want.
Step 2 Project Consultation: Our team will make a production plan, according to your design, budget, delivery time, or any
other service. Our final aim is to supply high quality and cost-saving   sculpture efficiently.
Step 3 Confirm Mold: We will make 1:1 clay or 3D mold,when finished clay mold. I will take photos for   your reference. The clay
mold can modify any details till to your satisfaction.
Step 4 Carving and Polish: We will carving with natural marble according to clay mold. Then polished.
Step 5 Package: Strong wooden crate with waterproof and shockproof foam inside.
Send us your requirements now, we will reply to your email within 24 hours