1.Introduction of metal man statue
The metal man statue presents a unique abstract aesthetic. The rabbit man stood there, holding a cane in his left hand and a bright
red bird resting on his right arm, as if communicating and interacting. The rabbit man wears a suit, with a bow tie and belt made of
stainless steel material, giving the work a modern and fashionable atmosphere. His design combines geometric elements, presenting
unique lines and angles, showcasing the artist's creative interpretation of form. The overall sculpture expresses a lively and cheerful
atmosphere, while also containing reflections on the relationship between nature and humanity.
Rabbit Modern Man Sculpture are suitable for placement in various environments, such as public squares, city gardens, art exhibition
halls, etc. Its unique shape and modernity make it a focal point that attracts people's attention, adding a touch of artistic color to the
environment. In urban landscapes, it can create an interesting contrast with the surrounding buildings and natural environment, creating
a lively and fashionable atmosphere.
The advantage of making this sculpture lies in the selection of weather resistant steel materials. Weathering steel has strong weather
resistance and corrosion resistance, and can maintain good condition for a long time under different climatic conditions. This allows
the sculpture to be displayed in an outdoor environment for a long time without being affected by adverse weather conditions. At the
same time, the material of weather resistant steel also endows the sculpture with a modern and industrial style, enhancing its visual
appeal.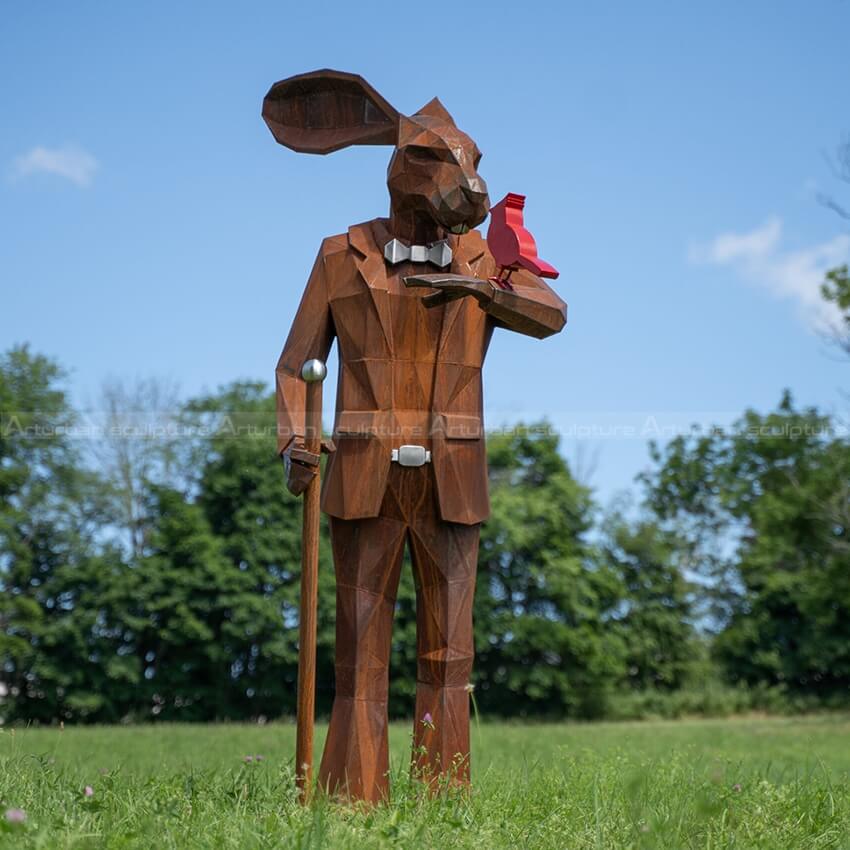 2. Production Process of metal man statue
Send us your requirements now, we will to your email within 24 hours.