1.Introduction of kissing couple statue
Kissing couple statue is abstract. Is it romantic to have such a sculpture of lovers? If you put it in the garden, will the whole place reveal the taste of happiness. This sculpture is an abstract bronze sculpture of lovers hugging and kissing. Two people in love hug and kiss each other. No environment around them can affect their feelings, and they will keep this emotion regardless of wind, frost, rain and snow. This perfect sculpture can not only be a great gift, but also a great art decoration indoors or outdoors.
We have rich sculpture experience in the production of bronze art sculptures, and this kissing lovers sculpture is carefully made by master craftsmen. The abstract artistic effects, vivid character movements and delicate expression demonstrate the high skills of the carving master. And its material can withstand the devastation of years and the baptism of time. If you like the picture of happy lovers together, we also have many beautiful sculptures, which can be used as exquisite gifts for your lover or as your home decoration. The exquisite artistic effects will bring you a beautiful life atmosphere.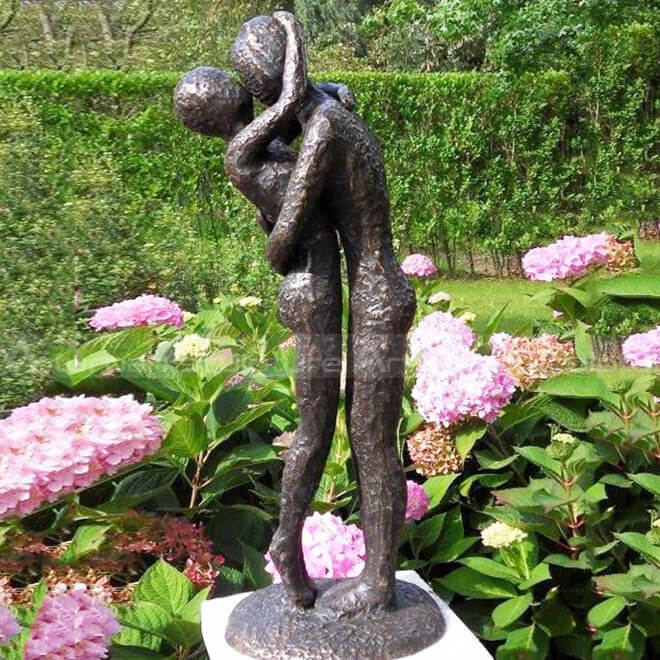 2.Production Process of kissing couple statue
1. Confirming the details drawing/ 3D mold/ Pictures with clients.
2. Making clay mold according to drawing/ client's photos/ 3D mold.
3. Lost-Wax casting bronze/brass statues.
4. Welding and Chasing.
5. Patina and wax surfance, take all different views pictures/ videos, show to clients.
6. Packing into wooden cases after clients are satisfied with sculptures.
Send us your requirements now, we will reply to your email within 24 hours