1.Introduction of dancing couple sculpture
This dancing couple sculpture is very exquisite. The garden is like a big stage. Everyone is appreciating their dance. They cross their hands, stand on tiptoe, lift their legs, and dance with great enthusiasm. It is full of a joyful atmosphere, which makes people excited. It seems that you want to have a beautiful dance with their exquisite dance steps. Moreover, this sculpture looks even better on the foundation stone, as if it is their stage there, and has become the focus of attention. This amazing art sculpture is not only a beautiful gift for lovers, but also a beautiful outdoor art sculpture.
This abstract bronze art dance sculpture was meticulously made by our sculptors with more than 20 years of experience. Our sculptors pay attention to the details of the sculpture. They not only vividly depict the abstract artistic beauty of the characters, but also give them love feelings and body movements. We also have many artistic sculptures of lovers, which are very exquisite and can be used for decoration on any occasion. If you are looking for high-quality bronze sculpture, you can contact us at any time, and we will make the shape, size and color you need.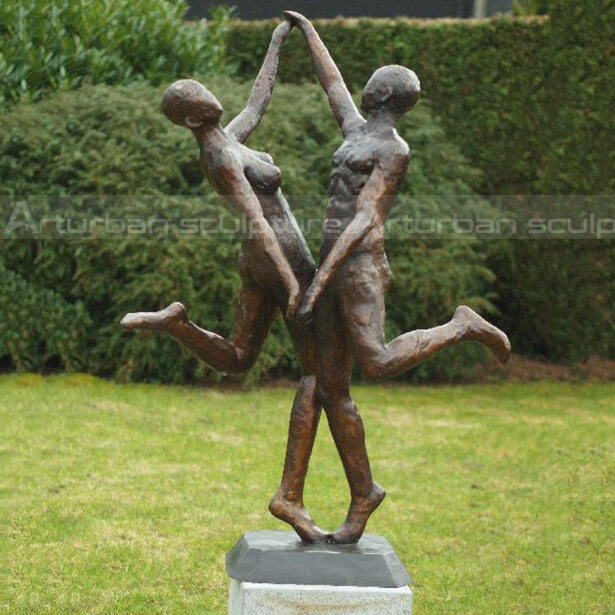 2.Production Process of dancing couple sculpture
1. Confirming the details drawing/ 3D mold/ Pictures with clients.
2. Making clay mold according to drawing/ client's photos/ 3D mold.
3. Lost-Wax casting bronze/brass statues.
4. Welding and Chasing.
5. Patina and wax surfance, take all different views pictures/ videos, show to clients.
6. Packing into wooden cases after clients are satisfied with sculptures.
Send us your requirements now, we will reply to your email within 24 hours