1.Introduction of hippo garden sculpture
Hippo garden sculpture is life size. Hippos are secondary mammals on land. Their bodies are big and heavy, with a body length of 350-450 cm, a tail length of about 56 cm and a weight of 3000-3500 kg. But it is short, with extremely short limbs and a shoulder height of only 140-165 cm. Hippo's head is very thick and its mouth is very large. It is larger than the mouth of any animal on land and can be opened at an angle of 90 degrees. This bronze Hippo statue opens its mouth and roars. You can see its huge mouth and sharp teeth. It looks very realistic, just like a real Hippo standing there. If as garden decoration, it will be an excellent work of art.
This outdoor bronze Hippo sculpture is carefully made by our master sculptors. The exquisite surface texture and details of the sculpture are lifelike. The rich sculpture color makes the sculpture natural and vivid. We also have many vivid Hippo sculptures that can be used for many occasions. If you are looking for high-quality outdoor bronze Hippo sculptures or various animal sculptures, you can contact us to customize the art sculpture to your satisfaction.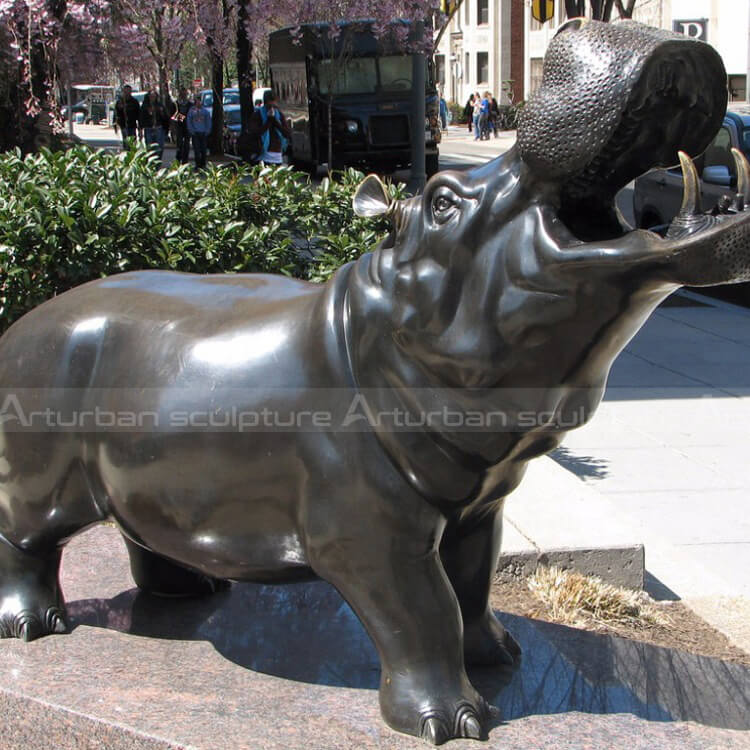 2.Production Proccess of hippo garden sculpture
1. Confirming the details drawing/ 3D mold/ Pictures with clients.
2. Making clay mold according to drawing/ client's photos/ 3D mold.
3. Lost-Wax casting bronze/brass statues.
4. Welding and Chasing.
5. Patina and wax surface, take all different views pictures/ videos, show to clients.
6. Packing into wooden cases after clients are satisfied with sculptures.
Send us your requirements now, we will reply to your email within 24 hours